Both the iOS and Android Lightroom apps have received major updates today. These are the changes to look out for:
New Branding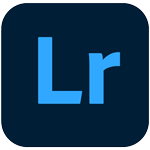 The mobile apps are members of the cloud-native Lightroom CC ecosystem, so the updated mobile apps use the new turquoise Lightroom CC icon and new terminology (e.g., albums instead of collections). Lightroom Classic, with its desktop-focused workflow, is not a fully-fledged member of the family but more of a distant cousin. Classic continues to sync with the cloud, as it has done for the last couple of years, but no new cloud features will be added to Lightroom Classic.
Search
Adobe's artificial intelligence image analysis technology, called Adobe Sensei, automatically tags your photos based on their content. This means you can search through your photos, even if you never got around to adding keyword tags manually. You can search your photos for subjects, such as boats or dog, camera models, dates (October 2017), keywords and a variety of other data visible in the Lightroom mobile apps.
Keywords
You can now manually add keywords to your photos using the mobile apps, and these sync with the Lightroom CC desktop app (but not Lightroom Classic). Typing the keywords can get a little tedious on a small keyboard, but you can copy and paste them onto other photos or use voice dictation. On iOS, keywords have their own screen, and on Android, you'll find the keyword entry field at the bottom of the Info screen.
Album Folders
If you've been using Lightroom mobile for a while, you likely have a long list of collections. The collections – now renamed albums – can be grouped into folders, which sync between devices and with the Lightroom CC desktop app (but they don't sync with Lightroom Classic's collection sets).
Presets
Lightroom users are very fond of their presets, and there's now a set of brand new professionally created presets for you to play with.
Brush tool (Android)
The Brush tool allows you to selectively edit parts of the photo. It was added to the iOS version in the last release, and now it's available on Android too.
New tablet interface (Android)
The Android tablet app now has a new interface to match the iOS and Windows/Mac apps.
Pause Sync (Android)
Previously you could limit sync to Wi-Fi connections only, to avoid using cellular data, but that didn't help when you were using limited bandwidth networks, such as when tethering or on vacation. Now there's a pause button, so you can stop Lightroom syncing without having to completely disable Wi-Fi.
Other Improvements
There's a bunch of other smaller changes, including bug fixes and minor changes to the user interface, for example, the iPad sidebar is now narrower to make the photo preview larger while editing.
On iOS, the minimum operating system is now iOS 10.
Learn More!
There are 5 more posts related to this series of announcements:
I know you'll have loads of questions, so I've written free Quick Start eBooks, available for download later today.
More extensive books for both Lightroom Classic 7.0 and Lightroom CC (Windows/Mac/iOS/Android) will be available soon in eBook and paperback formats, and I'll let you know as soon as they're released.