The Lightroom CC ecosystem has been updated today, with HUGE updates for Windows & Mac (2.2) and minor updates for iOS & Android (4.2). (Lightroom Classic CC has also been updated.)
HDR Tool (Windows/Mac)
Camera sensors have difficulty capturing the full range of detail in very high contrast scenes, resulting in blown highlights and noisy shadows, but now you can merge two exposures to create a high dynamic range image. This feature's been popular in Lightroom Classic for the last few years, so it's great to see it added to Lightroom CC.
Panorama Merge Tool (Windows/Mac)
When you see the most incredible view, you may be frustrated to find that you can't fit it all into a single photo. Lightroom's Panorama Merge tool allows you to shoot a series of photos and then merge them into a single large photo. Unlike most panorama tools, Lightroom's Merge tool retains the editing flexibility of the original raw files. This is a tool that many Lightroom Classic users missed when moving to Lightroom, so it will be greatly appreciated!
Targeted Adjustment Tool (Windows/Mac)
Rather than trying to guess which colors make up a particular shade of green, or where a particular tone falls on the tone curve, you can now use the Targeted Adjustment Tool. If you've previously used Lightroom Classic, this little hidden gem may already familiar. Simply select the TAT tool for your chosen panel, and then click and drag left < > right on the photo to adjust the tone curve or slider.
Enhance Detail (Windows/Mac)
The new Enhance Details tool is designed to extract additional detail from raw files at the initial demosaic stage of raw processing.
Let's say from the outset, this isn't a tool you'll use on every photo. As this advanced demosaic is a lot slower than the standard demosaic, the result is saved as a linear DNG file next to the original, with -enhanced added to the file name, and these files are much bigger than the originals.
On most photos, the standard demosaic is already extracting all of the available detail, so you'll mainly want to use Enhance Details if:
You're a Fuji X-Trans photographer (especially if you've noticed "worm" artifacts when sharpening your photos).
You're shooting with a high quality Bayer sensor without a low pass filter and you're using a very sharp lens.
You're creating large prints or expensive books.
You're affectionately known as a pixel peeper because you like to view your photos at 1:1 view or greater, and eek out every last bit of detail on your best photos.
On many photos, you won't be able to see a difference. Zoom into 1:1 or greater, or use the preview in the Enhance Details dialog. Look for very fine details, especially if they're diagonal or curved, and edges of contrasting colors, such as autumn leaves against a blue sky.
Adobe's shared some additional technical information in a special blog post, which you can read here.
Live Clipping Warnings (Windows/Mac)
Live clipping warnings can now be displayed while you're editing your photos, without having to hold down the Alt/Opt key. Click the triangles in the corners of the histogram or press the J key to show the red and blue clipping warnings.
iOS Shortcuts Automation
The iOS Shortcuts app is designed to automate a series of steps. Lightroom's integration is currently limited to adding photos, but there are a few potential advantages, compared to the standard Auto Add switches, for example:
Apply a preset to new photos being added to Lightroom (only default ones at this time).
Filter photos to only add specific file formats (by extension), only ones marked as favorites in the Photos app or a specific album.
Send multiple photos from another app (for example Google Photos or a tethering app) directly into Lightroom.
Automatically delete photos from Photos once added to Lightroom.
Other Smaller Enhancements
Disable People View – If you don't want Adobe to run the face recognition on your photos, perhaps for privacy reasons, you can disable People view. This deletes the facial identification data from Adobe's servers and stops them scanning your photos for faces. (Windows/Mac/iOS/Android)
Show Partially Compatible Presets – Develop presets can apply profiles, but not all profiles are applicable to every file type, so these presets are hidden by default. The Show Partially Compatible Presets switch is now available on iOS, and has been available on Windows/Mac/Android since the December 2018 release. (iOS)
Find Photos NOT in an Album – By popular demand, if you type album: into the search field, then scroll to the bottom of the list, there's now a Not in any album option to find orphaned photos. (Windows/Mac)
Share Photos as Web Galleries – You can now create Ad-hoc Shares from the iOS app, sharing specific photos rather cluttering up your Albums panel. It was already available on Windows, macOS, Android and Web, so this completes the set. (iOS)
New Camera Support
When a new camera is released, standardized formats such as JPEG, TIFF and DNG are supported immediately. Proprietary raw file formats are not standardized, so they must be individually added in a Lightroom release. Most cameras are supported within 2-3 months of their release. Raw file format support has been added in this release for:
New Lens Profiles
Many compact and mirrorless cameras have built-in lens profiles, but other cameras use lens profiles to correct for lens defects such as barrel/pincushion distortion and vignetting. New profiles are added with each Lightroom release. Click here for the full list of available Adobe Lens Profiles.
Bug Fixes
As always, the engineers have been working hard to fix bugs. Adobe only publishes the ones that were reported by users:
The cover photo of named People cluster loses face information after migration from Lightroom Classic
If you find a bug, click here to learn how to report it to Adobe.
How do I update?
To update on the desktop, go to Help menu > Updates or click the Update button in the CC app. The update servers take a while to push the updates around the world, to avoid overloading the servers. You can also open the Creative Cloud app, click the … icon (top right) and select Check for Updates to give it a nudge. To update on mobile, visit the App Store (iOS) / Play Store (Android).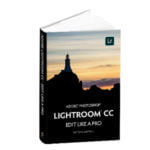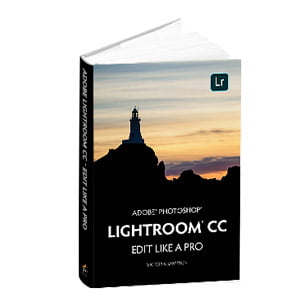 Is the book updated?
The eBooks for Adobe Lightroom CC – Edit Like a Pro are already updated for these changes, and can be downloaded immediately after purchasing. If you're already a CC Premium Member, the updated eBooks are available for download in your Members Area.