The Lightroom CC ecosystem has been updated today, with updates for the Windows (1.4), Mac (1.4), iOS (3.3) and Android (3.5) apps. (Lightroom Classic CC has also been updated.)
Of course there's new camera/lens support, but there's some greatly anticipated new features too:
Preset/Profile Sync! (All Versions)
Finally! After 4 years of requests, and many preparatory changes (such as the preset format changes released a couple of months ago)… we can now sync profiles and presets between Lightroom CC on Windows, Mac, iOS, Android and Web. Just import profiles/presets into the Windows/Mac Lightroom CC apps or create presets using any version, and they'll automatically sync to the other devices, just like your photos. (Note that Lightroom Classic, as a desktop-focused app, does NOT sync profiles or presets).
Preset/Profile Management (All Versions)
In addition to syncing profiles and presets, there's a selection of new profile/preset management tools, including:
Preset creation has improved significantly on the desktop, so it now allows you to decide which tools or sliders to include in your new preset – and you can now create presets from your iOS/Android device too.
You can also now update, rename and delete presets on any of your devices, rather than having to wait until you return to the desktop.
To import or export presets, you'll still need the Lightroom CC desktop apps, but the imported presets will then sync to the mobile apps, so your purchased presets will be available everywhere.
You can hide profile or preset groups on any device, and that visibility status is local, which means that some less frequently used profile/preset groups can be available on the desktop where you have plenty of screen space, but hidden on smaller devices.
If you use third party presets such as VSCO or you create your own camera-specific profiles, you may have seen the 'profile missing' error message over the last couple of months. When you first run Lightroom CC 1.4 on the desktop, it will automatically import any of these camera-specific profiles it finds installed on the system. Like the other profiles/presets, these will also sync to your mobile devices. Happy days!
Copy/Paste to Multiple Photos (Windows/Mac)
The other big missing feature in Lightroom CC on the desktop was the lack of bulk editing, but good news… there are two big improvements in this release.
You can now choose which edit settings to copy to the clipboard, so for example, you can choose to copy just the crop, or just the white balance, or a selection of different sliders.
And then, when you come to paste the settings to other photos, if you switch back to the Grid view, you can paste the settings to multiple photos in one go. (Or as a secret really well hidden trick, the keyboard shortcut Ctrl Shift V on Windows or Cmd Shift V on Mac pastes the settings to multiple selected photos while you're still in Detail view. Ssssh… don't tell anyone!)
Healing Brush (iOS/Android)
On iOS/Android, one of the most popular feature requests has been to bring the Spot Healing Brush to mobile devices, and your wish has been granted… the Healing tool is now available too! Whether there are dust spots in the sky or litter on the grass, you can now remove distractions non-destructively without having to wait until you get home.
Other Editing Tool Improvements
When using the selective editing tools on Windows/Mac, you can now switch the overlay from red to green. This is especially useful when the subject you're selecting is the same color as the mask.
If you have a Windows touch-enabled device, you can now use your finger to draw brush strokes in the Linear Gradient, Radial Gradient and Brush tools.
There's a minor change to the healing brush on the Windows/Mac apps too, adding a checkbox for the previously hidden Visualize Spots tool, which helps you to spot the spots.
On Windows/Mac, there's a new Reset to Open option, in addition to the main Reset to Original. It resets the settings back to the beginning of the editing session (since you switched to the selected photo). This is already available on iOS/Android.
On iOS, Remove Chromatic Aberration has been added to the Optics panel.
Tech Previews (iOS/Android)
Like Lightroom on the web, you can now enable technology previews on the iOS and Android phone apps. This gives you early access to features Adobe are experimenting with. To enable specific experimental features, tap the LR icon (iOS) / hamburger icon (Android) and then show the Technology Previews preferences.
Tech Previews include new Guided Tutorials, which demonstrate how to use specific features. Tap the LR icon (iOS) / hamburger icon (Android) and then go to Help & Support > Guided Tutorials.
There's also a new experimental Long Exposure Mode for the iOS camera. Once enabled in Technology Previews, you'll find it in the pop-up to the right of the camera's shutter. Lightroom captures multiple sequential images and merges them into something that looks like a long exposure image, blurring any motion. Unlike a traditional long exposure image, it's smart enough to figure out which areas of the photo are really moving and which bits are blurred due to camera shake, so you can even capture 5 second images handheld. Clever!
HEIF Support (Mac 10.13+, iOS 11+)
With the release of iOS 11, Apple announced that its newest devices would default to to a new photo file format/container called HEIF, which stands for High Efficiency Image Format. It uses a more modern compression method than JPEG, so the file sizes are smaller.
As of today's Lightroom releases, you can import and edit HEIF format images using Lightroom on iOS11 or later, and macOS 10.13 or later. It's not supported on other operating systems at this time, and HEVC videos are not currently supported, so you may still wish to remain in "most compatible" mode on your iOS device.
Web sharing options (Windows/Mac)
When you've shared a web gallery, you can now set the sharing options (such as whether to allow downloads) from the desktop apps. This is already available in the iOS/Android apps and on the Web.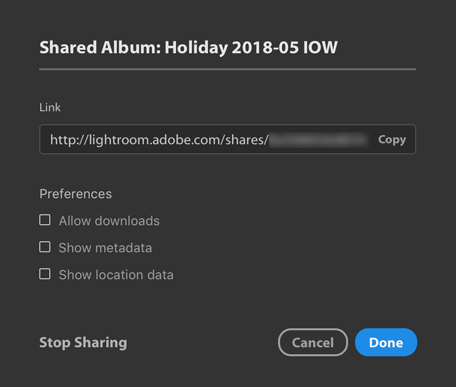 Sort Options (Windows/Mac/Android)
There are some new Grid view sort options. On the desktop, you can now sort by filename, and on Android, you can sort by star rating.
Text a link to mobile app (Windows/Mac)
If you don't have the mobile apps installed yet, you can search the App Store (iOS) / Play Store (Android) or you can simply text yourself a link from the cloud icon in the desktop app.
New Camera Support (All Versions)
When a new camera is released, standardized formats such as JPEG, TIFF and DNG are supported immediately. Proprietary raw file formats are not standardized, so they must be individually added in a Lightroom release. Most cameras are supported within 2-3 months of their release. Raw file format support has been added in this release for:
Fujifilm X-T100
PENTAX K-1 Mark II (Dynamic Pixel Shift images only show the first raw image frame)
Phase One IQ3 100MP Trichromatic (preliminary support)
Samsung Galaxy S9
Samsung Galaxy S9+
Click to view the full list of supported cameras.
New Lens Profiles (All Versions)
Many compact and mirrorless cameras have built-in lens profiles, but other cameras use lens profiles to correct for lens defects such as barrel/pincushion distortion and vignetting. New profiles are added with each Lightroom release. Click here for the full list of available Adobe Lens Profiles.
How do I update?
To update on the desktop, go to Help menu > Updates or click the Update button in the CC app. The update servers take a while to push the updates around the world, to avoid crashing the servers. You can also open the Creative Cloud app, click the … icon (top right) and select Check for Updates to give it a nudge.
On mobile, check the Apple App Store (iOS) / Google Play Store (Android) for updates.
SaveSave
SaveSave
SaveSave
SaveSave
SaveSave
SaveSave
SaveSave
SaveSave
SaveSave
SaveSave
SaveSave
SaveSave
SaveSave
SaveSave
SaveSave
SaveSave
SaveSave