Lightroom Classic 10.1.1 has been released today. As this is a double-dot release, it is a minor interim release containing a bug fix.
The update addresses and fixes an issue for specific files missing Lens Metadata. This was causing the sync to Adobe cloud to stall. The sync errors caused by this issue should now run successfully.
This is the only change in this release.
How do I update?
To update, go to Help menu > Updates or click the Update button in the CC app. The update servers take a while to push the updates around the world, to avoid overloading the servers. You can also open the Creative Cloud app, click Update on the left, then click the … icon (top right) and Check for Updates to give it a nudge.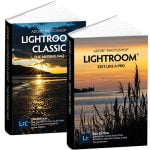 For extensive information on Lightroom Classic, see Adobe Lightroom Classic – The Missing FAQ.
If you have the Photography Plan, then as well as Classic you have access to the Lightroom cloud ecosystem including the mobile apps and web interface. For more information on these apps, see Adobe Lightroom – Edit Like a Pro.
Note: purchase of these books includes the first year's Classic or cloud-based Premium Membership (depending on the book purchased), giving access to download the latest eBook (each time Adobe updates the software), email assistance for the applicable Lightroom version if you hit a problem, and other bonuses.
We also have a special bundle offer for the two books. This includes Premium Membership for the first year as described above for the whole Lightroom family!