After 5 weeks as a release candidate undergoing wider user testing, 4.2 is available as a final release.  (Ok, I'm a few weeks late posting this, sorry.  It's this little guy's fault! 😉 )
Here are the download links you'll need:
So what's new?  Camera support, for a start:
Canon 650D (Rebel T4i), EOS M
Fuji XF1, X-E1, F800EXR
Leaf Credo 40, 60
Leica S, D-LUX 6, v-LUX 4
Nikon D600 preliminary support*, P7700, 1 J2
Panasonic DMC-G5, DMC-LX7, DMC-FZ200
Pentax K-30
Samsung EX2F
Sony Alpha NEX-5R, NEX-6, SLT-A99V, DSC-RX100
Various new lenses too
Preliminary support for the D600 means that it will import and edit the files, but the support will be improved in the final release.  It currently only has a beta profile – the final Adobe Standard and camera emulation profiles will be added in the final release.
There's also long-awaited tethering support:
Canon Kiss 600D (Rebel T3i / X5), 1100D (Rebel T3 / X50), 5D Mk3, 1DX
Nikon D4, D800, D800e
There are also a number of other bug fixes for issues that affected 4.1. They include unresponsive noise sliders when Clarity was enabled, exporting Books to JPEGs didn't apply sharpening, and various other irritations.  Performance continues to be a work-in-progress, but early reports are positive.
There's also a change to the cropping.  For some time, user opinion has been split – some want their in-camera crop  (i.e. 3:2, 16:9, 1:1) applied and others want the full raw file.  A new feature in Lightroom 4.2 now allows you to recover image data previously lost when using in-camera crop modes.
You'll notice that the crop ratio pop-up has gained a new option – As Shot – which is now the default setting.
In newly supported cameras, As Shot will show the photo with the in-camera crop applied, but changing to Original will show all of the available sensor data.
For older cameras, you'll need the DNG Recover Edges plug-in which is available for download from Adobe Labs.
To install the plug-in, download and unzip it, and then go to Lightroom's File menu > Plug-in Manager.  Click Install and navigate to your downloaded plug-in.
To run the plug-in, your raw photo will need to be in the DNG format, so go to Library menu > Convert Photo to DNG (and if you want to keep the original format too, make sure you uncheck 'delete originals after successful conversion).
Select the DNG file and go to Library menu > Plug-in Extras and select DNG Recover Edges – Apply.  An additional DNG file will appear, stacked with the original photo.  That new DNG file will include any available sensor data.  Some cameras don't record the additional sensor data.
When you select Crop mode, the crop borders will be set to the As Shot ratio, but the rest of the image data will be available for an alternative crop.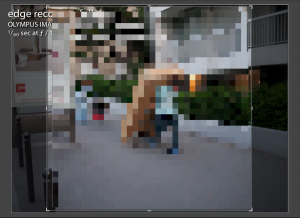 (Apologies for the obscured photo – it was the best example I could find to illustrate this and I can't find the name of the photographer who sent it to me!)