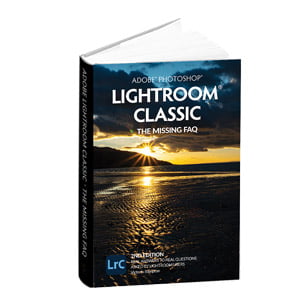 Introduction
The Book Format
Talk to Us!
Before You Start
What is a Lightroom catalog?
Designing Your Workflow
Shooting Raw, sRAW or JPEG
Installing Lightroom
Keeping Lightroom Updated
Upgrading Your Catalog
Calibrating Your Monitor
Help Shortcuts
Importing Photos & Videos
Import in Detail
Source panel
Previewing and Selecting Individual Photos
Import Method
File Handling panel
File Renaming panel
Apply During Import panel
Destination panel
Saving & Reusing Import Settings
The Compact Import Dialog
After Pressing Import
Troubleshooting Import
Tethered Shooting & Watched Folders
Import Shortcuts
Backup
Back Up Your Catalog
Back Up Your Photos
Back up the Extras
Restoring From Backups
Backup Checklist
The Lightroom Workspace
The Top Bar
Panels & Panel Groups
The Filmstrip
Workspace Shortcuts
Viewing Your Photos
Viewing Your Photos in Grid View
Selections
Viewing Your Photos in Loupe View
Viewing Your Photos in Survey View
Viewing Your Photos in Compare View
Secondary Display
Viewing Photos Shortcuts
Selecting the Best Photos
Rating your Photos
Quick Develop
Grouping Similar Photos using Stacks
Collections
Selecting Photos Shortcuts
Managing Your Photos
Managing Folders in Lightroom and on the Hard Drive
Changing the Folder Structure
Managing the Individual Photos
Managing Photos & Folders Shortcuts
Adding Metadata to Your Photos
Adding Metadata using the Metadata Panel
Editing the Capture Time
Keywords
Faces
Map Locations
Metadata Shortcuts
Finding & Filtering Your Photos
Sort Order
Filtering Your Photos
Using Smart Collections
Filtering Shortcuts
Develop Introduction to Editing
Analyzing the Image—Technical Faults
Analyzing the Image—Artistic Intent
Learning to Edit
Developing Your Own Style
Photo Analysis Checklist – Technical
Photo Analysis Checklist – Artistic Intent
Photo Analysis Worksheet Example
Develop Basic Editing
Adjust from the Top… Mostly
Simple Editing Examples
Profiles
White Balance
Tone & Presence
Exposure
Global Vs. Local Contrast
Highlights and Shadows
Whites and Blacks
Texture Vs. Clarity
Dehaze
Vibrance vs. Saturation
Process Versions
Editing Videos
Develop Basic Shortcuts
Develop Selective Editing
Cropping & Straightening
Spot Removal—Clone & Heal Tools
Red Eye & Pet Eye Correction Tools
Local Adjustments—Gradients & Brushes
Develop Selective Editing Shortcuts
Develop Advanced Editing
Tone Curves
Black & White
Color Grading
HSL & Color
Detail—Sharpening & Noise Reduction
Lens & Perspective (Transform) Corrections
Effects—Post-Crop Vignette & Grain
Photo Merge
Develop Advanced Shortcuts
Develop Editing Tools
Copying Settings to Similar Photos
Presets—Saving Settings to Apply to Other Photos
Defaults
History & Reset
Before / After Preview
Comparing Photos in Reference View
Versions—Snapshots & Virtual Copies
Histogram and RGB Values
Color Management & Soft Proofing
Develop Tool Shortcuts
Further Editing in Other Programs
Setting External Editor Preferences
Editing in Photoshop or Photoshop Elements
Adobe Camera Raw Compatibility for Photoshop
Setting Up Additional External Editors
Installing Plug-ins
Saving Metadata to the Files
Edit in… Shortcuts
Export, Email & Publish Services
'Save As' a copy on the Hard Drive using Export
Export To
Export Location & File Naming
Video & File Settings
Image Sizing & Resolution
Output Sharpening
Metadata & Watermarking
Post-Processing
Other Export Questions
Emailing your Photos
Publish Services
Export Shortcuts
Output Modules
Book Module
Slideshow Module
Print Module
Web Module
Multiple Computers or Catalogs
Managing Catalogs
Moving Lightroom
Working with Multiple Machines
Single or Multiple Catalogs
Catalog Shortcuts
Troubleshooting
Missing Files
The Cat Walked Over the Keyboard
Catalog Corruption
Image & Preview Problems
Standard Troubleshooting
Default File & Menu Locations
Troubleshooting Shortcuts
Improving Performance
Non-Destructive Editing
Debunking Myths
Previews in the Library Module
Previews & Caches in the Develop module
Preferences & Catalog Settings
Workflow Tweaks
Hardware Choices
General System Maintenance
What's Slow?
Performance Checklist
Performance Shortcuts
Cloud Sync
Lightroom Mobile Basics
Syncing Lightroom Classic
Sync Limitations
Troubleshooting Sync
Advanced Workflows
Register your book for additional benefits
Index
Additional Appendices in the eBook Formats only…
Book Module
Book Basics
Working with Pages & Templates
Auto Layout
Working with Photos
Page Styles
Adding Text to Your Book
Text Formatting
Saving Books
Exporting & Printing Books
Book Module Shortcuts
Slideshow Module
Slideshow Basics
Slide Layout & Design
Text Captions & Other Overlays
Playback Settings
Saving Slideshows & Templates
Exporting Slideshows for Use Outside of Lightroom
Slideshow Module Shortcuts
Print Module
Print Basics
Print Layout
Print Design & Overlays
Printing & Exporting
Saving Prints & Templates
Print Keyboard Shortcuts
Web Module
Web Gallery Basics
Web Gallery Layout & Design
Saving Web Galleries & Templates
Export for Web
Third Party Galleries
Web Module Shortcuts
The Geeky Bits
Proprietary Raw vs. DNG
Flat Field Correction
DNG Profile Editor
Custom Keyboard Shortcuts, Translated Strings and Other Text Hacks
Photoshop Actions via Droplets
Importing From Other Programs
Changes
October 2020
Changed Questions