Previously, we looked at how to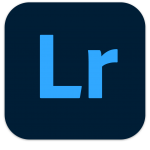 export photos from Lightroom Classic. But what about saving photos from Lightroom Desktop or Mobile? Why would you want to, and how?
Why save from Lightroom when I can share a Web Gallery?
We already considered sharing a Web Gallery, and it's a great way to share a selection of photos. But you might want to save edited copies of your photos for different purposes, including to: 
Send to other people.

 

Upload to photo sharing websites.

 

Upload to online labs or take to local photo labs to be printed as photographic prints.

 

Upload to online printers to create books, calendars and other products.
Print using other software.
Open in other software for further editing, such as Nik, On1, Topaz, etc.

 
There's no need to keep these edited copies once they've served their purpose, as you can save a new copy at any time. Let's look first at saving from Lightroom Desktop, then Lightroom Mobile.
Saving a photo on the Desktop
To save one or more photos to the hard drive, go to File menu > Export or click the Share icon. Select one of the presets or choose Custom... to select your own settings, such as the size, file format, watermark, filename, sharpening or color space.
Saving a photo on Mobile
To save one or more photos to the Camera Roll (iOS) / Gallery (Android) or other file storage space: 
Go to Grid view. Hold your finger on a photo to enter selection mode. Now tap or drag across the photos you want to save. Alternatively open a single photo in Detail view.

 

Tap on the Share menu.

Select Export As… to access the export options. Tap the checkmark to choose where to store the exported photos (iOS) / save the photos to your Gallery app (Android).

 

Or, select one of the other Share/Export presets (such as Share To) to send the photo to another app (e.g. Mail, Facebook, etc.) The export options are set using the button to the right of the preset.

 
Here's the Mobile workflow:
It's as simple as that! Of course, you may want to go further and use a Web Gallery to share your photos with others. They can also share comments and likes. See our blog series:
There are 5 posts in the series:
Sharing photo is half the fun in taking them!
For extensive information on Lightroom Cloud Ecosystem, see Adobe Lightroom – Edit Like a Pro.
Note: purchase of this book includes the first year's cloud-based Premium Membership, giving access to download the latest eBook (each time Adobe updates the software), email assistance for the cloud-based Lightroom apps if you hit a problem, and other bonuses.