Adobe has just released their first Aperture/iPhoto to Lightroom Import tool. They're going to continue refining the plug-in and will include it in a future Lightroom update and it's now included in Lightroom 5.7 (updated 18 November 2014), but if you're itching to convert your Aperture library (3.5.1 or later) or iPhoto library (9 or later), you can try it right now. So what do you need to know?
What's Included in the Transfer:
Metadata

Flags
Rejects (files designated as Rejects in Aperture will be imported into Collections > From Aperture > Photos Rejected in Aperture)
Star Ratings
Color Labels (Aperture has more color labels than LR, so Color Labels will be mapped to keywords: Red, Orange, etc…, including support for custom label names)
Keywords
Faces will be added as keywords in Lightroom (note that the box around the face doesn't translate to a Lightroom 5 feature)
Places (GPS Data)
Info panel metadata (i.e. IPTC, etc.)
Hidden Files (files designated as Hidden in iPhoto will be imported into Collections > From iPhoto > Photos Hidden in iPhoto)

Organization

Aperture project/folder/album hierarchy and iPhoto events/folders/albums hierarchy will be mapped as closely as possible into Lightroom collection sets and collections
Stacking (Aperture Only — stack groupings will be mapped to keywords in Lightroom as they don't map cleanly between the programs)
Aperture Versions will translate into Virtual Copies in Lightroom (metadata only – no Develop adjustments)

Edits

You can import 'Full size' previews from Aperture/iPhoto (optional, off by default) to help you remember how you edited the file in Aperture, provided that they are up-to-date. Lightroom can automatically stack the preview with the original photo.
What's NOT Included in the Transfer:
Some Aperture/iPhoto features don't have an equivalent feature in Lightroom. As a result, some settings aren't transferred. They include:
Develop Settings don't translate to Lightroom's settings, so you have a few options:

Edit the files again using Lightroom when you need them.
Keep Aperture around to export those photos when you need them.
Use Aperture to export full resolution edited photos and store them with the originals.

Smart Albums don't quite translate to Smart Collections.
Custom Fields have no Lightroom equivalent (except for certain plug-ins)
PSD Files can only be imported into Lightroom if they're saved with 'maximize compatibility' enabled.
Anything else not already listed is probably not imported into Lightroom.
What about File Management?
Aperture offers two ways of storing your files – managed or referenced.
If your files are managed by Aperture, Lightroom leaves them where they are and duplicates them in your chosen location.
If your files are referenced by Aperture, Lightroom gives you the option of leaving them in their current location, or duplicating them in a new location.
If Lightroom duplicates the files, it places them in dated folders. YYYY/MM/YYYY-MM-DD
If you only want to transfer part of your library into Lightroom, you can export those photos as a new Aperture Library and then run the importer tool on that.
Installing and Using the Plug-in
Let's take the instructions one step at a time. We'll use the Aperture Import tool but the same principles apply to iPhoto too:
You need to be running Lightroom 5.7 on a Mac.  You can check your Lightroom version by going to Help menu > System Info. If you're not using 5.7, you'll need to update using Help menu > Check for Updates.
(Instructions for plug-in installation now removed, as it's now included in Lightroom 5.7 by default – updated 18 November 2014)
Download the plug-in from here: aperture_iphoto_importer and save it somewhere safe, such as your desktop or downloads folder. (link updated to 1.0.1 2014-11-05)

 

Double-click on the downloaded zip file to extract it.
Open Finder and hold down the Opt key while selecting the Go menu. That makes the User Library folder visible. Select Library, then navigate through Application Support > Adobe > Lightroom.
If a folder called Modules doesn't already exist, create it inside that Lightroom folder.
Copy the extracted aperture_iphoto_importer.lrplugin file to the Modules folder.
Launch Lightroom and then you're ready to get started.
Create a clean Lightroom catalog (File menu > New Catalog) or at least back up your working Lightroom catalog.

To back up on demand, go to Lightroom menu > Catalog Settings and select When Lightroom Next Exits from the pop-up at the bottom and quit Lightroom to run the backup., then open Lightroom.

Go to File menu > Plug-in Extras > Import from Aperture Library or Import from iPhoto Library.
That displays the Import from Aperture dialog.
Next to Aperture Library, press Select to choose your library. It selects the default location automatically.
To the right of Copy images/videos to, select where to store copies of the photos. (If the photos are all referenced, you can choose to leave them in their current location in Options).
The number of images/video files, disk space required and disk space available are for information only. Obviously ensure that there's enough space available on your chosen drive!
Press the Options button to select your preferences. The options are:

For images which have been adjusted in Aperture, import full size previews from the Aperture library (if they are available and up-to-date).
Import only applied keywords from Aperture (or import the full keyword list even if they're not applied to any photos)
Create Lightroom keywords for color labels from Aperture (or ignore the color labels)
Create Lightroom keywords for stacks from Aperture (or ignore the stacks)
Leave referenced files in your Aperture library in their current location (this avoids duplicating files and taking up double the hard drive space, but if you move them in one program, the other program won't be able to find them again).
Place preview copies in the same folder as the master images to allow automatic stacking only appears if For images which have been adjusted in Aperture, import full size previews from the Aperture library (if they are available and up-to-date) is checked.
Press OK to return to the main dialog, then press Import.
A progress dialog displays while it's working.

When it gets to the end, press Done. An information dialog displays. You can show it again later by selecting File menu > Plug-in Extras > Aperture Info.
Now it's time to survey the results.
If you imported managed files, all of those new folders are listed as a flat list by default. To change it into a folder hierarchy, right-click on a folder and select Show Parent Folder. A new month folder appears with a solid triangle to the left (see the red arrow), showing that the folder has subfolders. Right-click on that folder and choose Show Parent Folder.
Lightroom then displays the year folder. Repeat on that year folder so it displays the LightroomMasters folder (or whatever you called your folder), with the year folders listed indented below, like this:
The import also creates a series of From Aperture collections in the Collections panel, including Most Recent Import, Photos Adjusted in Aperture, Photos Rejected in Aperture and a hierarchy of Projects based on your Aperture Projects list.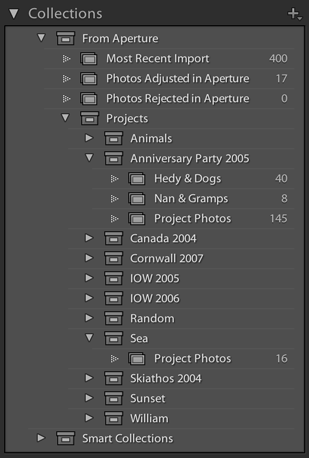 In the Keyword panel, you'll find your keywords, plus some that are created by the import tool. Those are Aperture Color Labels, Aperture Stacks and Faces from Aperture.
You can then filter and select those photos and apply a Lightroom setting.  For example, click on the arrow to the right of the Green keyword count to filter photos that had that Aperture color label. Select the resulting photos and press the 8 key to assign the green Lightroom color label.
You're done! As with any transfer between software, there's probably some cleanup to do, but you can now call yourself a Lightroom User! If you're new to Lightroom, don't forget to download my free Lightroom 5 Quick Start eBook.
Update 14 December 2014 – some people are reporting problems with the Import button being unavailable. We're not sure of the cause yet, but if you don't want to wait until Adobe tracks it down, you could try this app that Tom mentioned in the comments below (thanks Tom!)