Have you ever been skipping around different collections and folders, and wished there was a quicker way back to the previous source?  There is!  You have a few different options:
On the breadcrumb bar, which is the string of icons and text above the Filmstrip, there are left and right arrows. Those arrows step backwards and forwards through your recent sources, like the Forward and Back or Previous and Next buttons on your web browser.
Further along the breadcrumb bar, at the end of the text, is a small arrow which brings up the favorite/recent sources menu. The standard collections from the Catalog panel are listed first, then any favorite sources, then recent sources. The recent sources are added automatically as you browse around Lightroom.
If there's a particular folder or collection that you'd like to have to easily accessible, navigate to that folder/collection, and then select Add to Favorites from that menu. It will immediately be added to the list. If you want to remove it later, go back to that same folder, and the menu command will automatically change to Remove from Favorites.
Since all of those options are on the Filmstrip, they're available from every module, so you don't have to keep switching back to Library to switch folders.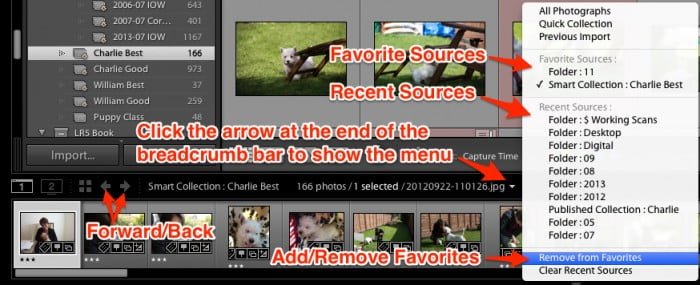 But what if you're in the Import dialog, rather than one of Lightroom's main modules?  The Import dialog doesn't allow you to select favorite folders, but you can browse your recently used import folders. The top left and right corners of the Import dialog don't look like buttons, but when you click them, Lightroom will show you a list of standard operating system folders, as well as a list of your recently used folders.
Finally, if you're not a fan of trying to navigate using Lightroom's Source and Destination panels, the Other Source… and Other Destination… buttons display the standard operating system dialogs.