Strange colored previews that don't match the exported photos in color managed programs are usually caused by a corrupted monitor profile. Lightroom uses the profile differently to other programs (perceptual rendering rather than relative colorimetric), so corruption in that part of the profile shows up in Lightroom even though it appears correct in other programs. It often happens with the manufacturer's profiles that come with many monitors.
Check the Histogram on a grayscale photo. It should be neutral but corrupted profiles often create some weird color casts which also show on the Histogram.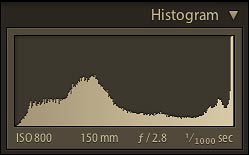 Ideally you should recalibrate your monitor using a hardware calibration device. If you don't have such a tool, put it on your shopping list, and in the meantime, remove the corrupted monitor profile to confirm that this is the problem.