Depending on your Import dialog settings, the folders may be in one long list regardless of their hierarchy on the hard drive. That can make them hard to find and relocate if they're ever marked as missing.
As a preventative measure, you can configure Lightroom to show a few top level folders, with subfolders below. If Lightroom ever loses track of your photos, perhaps as a result of a hard drive failure or the drive letter changing, you'll only need to relink the top level folders and that will cascade through the rest. It also makes it easier to visualize where the photos are stored on your hard drive.
So how do we go from this slightly nondescript tangle of folders on the left… to the tidy hierarchy on the right…?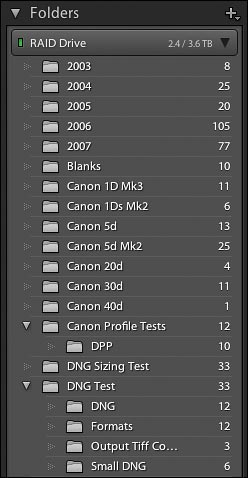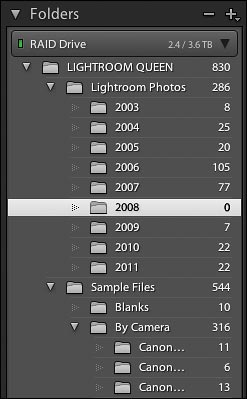 Right-click on the current top level folder and select Show Parent Folder. This doesn't import new photos—it just adds an additional hierarchy level to your Folders panel, and does a lot more behind the scenes. Keep repeating that process on each top level folder until it shows your chosen parent folder.
The top level folders are those without a parent folder, so in this screenshot, they are 'Lightroom Photos' and 'Sample Files' and all of the others are subfolders.
If you go too far and want to remove a top level folder, right-click on that folder and choose Hide This Parent. It does the opposite of Show Parent Folder, and will ask for confirmation before removing that top level folder from your Folders panel, as there may be photos directly in that folder that would be removed from the catalog.
If the Show Parent Folder and Hide This Parent (formerly called Add Parent Folder and Promote Subfolders) options don't appear in the menu, you're right-clicking on the wrong folder. You have to right-click on the top level folder, rather than a subfolder or Volume Bar, for those options to appear. In the screenshot, you would need to right-click on the folder 'Lightroom Photos' instead of '2009,' and 'Sample Files' instead of 'Blanks.'