Last week, we looked at the Organize view. This week, tap on the Lightroom Photos collection to open the Grid view. Here are all of the tips and tricks you need to know: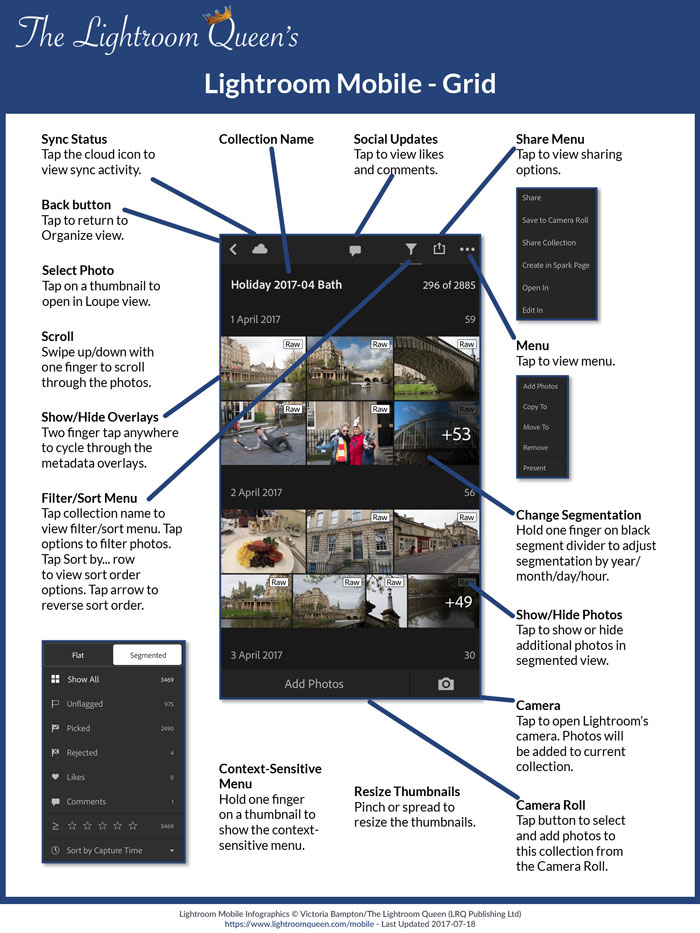 In the Grid view, you can:
View thumbnails.
Segment thumbnails by hour, day, month or year.
View basic metadata – flags, stars, file type, shutter speed, aperture, ISO, capture date/time.
Change the sort order.
Filter the view by flags or star ratings.
Copy/move photos between collections.

Tap the menu in the top right corner, then select Copy To or Move To and a grid of photos appears.
Tap to select the photos you want to move, shown by a blue border. Holding your finger on a photo in the selection grid displays a menu, allowing you to Select All, Select None or Select Range.
Tap the arrow in the top right corner to confirm the move/copy.
Lightroom needs to know where to put the photos, so on the next screen it shows thumbnails of your existing collections, as well as a New Collection button. Tap the collection of your choice and then the arrow in the top right corner to complete the move/copy.

Remove photos from a collection… watch out for the differences:

If you're viewing a collection, Remove Photo just removes the photo from that collection, but it remains in the primary Lightroom Photos collection and in the cloud.
If you're viewing the Lightroom Photos collection, the photo is removed from the mobile device and cloud. If the photo has already been synced to/from a desktop catalog, it's not removed from the catalog completely, so you'll still be able to find it in the Folders panel or All Photographs in your desktop catalog.
If the photo hasn't been synced to a desktop catalog, perhaps because you're adding photos to Lightroom mobile while you're offline, then deleting it from Lightroom Photos prevents it from ever being uploaded. If the photos have been synced to the cloud/desktop, and you want to delete the originals from the desktop hard drive, mark them as rejected and delete them on the desktop instead.

Share multiple photos via email, social media, or by saving them to the Camera Roll.
Next week, we start exploring the Rate & Review mode.
More information
For extensive information on the Lightroom cloud ecosystem (including mobile, cloud desktop and web interface), see Adobe Lightroom – Edit Like a Pro which is already updated for the latest features, and can be downloaded immediately after purchasing. If you already have a current Lightroom Cloud Premium Membership, the latest eBooks are available for download in your Members Area.
Note: purchase of this book includes the first year's cloud-based Premium Membership, giving access to download the latest eBook (each time Adobe updates the software), email assistance for the applicable Lightroom version if you hit a problem, and other bonuses.