Finally, yesterday, Adobe announced the release of Lightroom mobile for Android phones! Before you get too excited, it isn't available for Android tablets… yet. But hey, phones is a great start!
Minimum Requirements
Device type: mobile phone (It won't install on tablets yet, but that's expected in a future update.)
Processor:  Quad Core CPU with 1.7 GHZ ARMv7 architecture
RAM:  1 GB
Internal Storage: 8 GB (it only uses internal storage, not SD cards)
OS: Android Jellybean, KitKat, or Lollipop
Like Lightroom mobile on the iPad & iPhone, it allows you to sync your photos from Lightroom 5 on your desktop to the Lightroom Sync cloud, and back down to your mobile devices. Using the Smart Preview technology introduced in Lightroom 5, smaller versions of your photos, including raw files, can be synced to your mobile device without taking up too much bandwidth or space.
Viewing your photos on your phone
Once the photos have downloaded to your phone, you can browse through them while relaxing on the sofa, traveling on the train, or even sitting on the beach. If you know you're not going to have internet access, you can cache them for offline use. Unlike many other apps, however, you're not just limited to browsing. Lightroom mobile allows you to refine your photos, marking them with flags and star ratings, and those changes are automatically synced back to your desktop Lightroom catalog.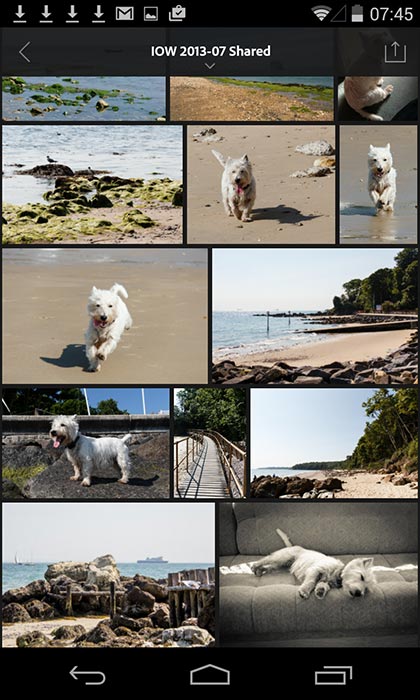 Editing your photos
It can be difficult to decide whether a photo's worth keeping without first making some basic Develop adjustments, so Lightroom mobile goes further, allowing you to edit the photos on your phone. And like the flags and stars, these non-destructive Develop settings are also synced back to the desktop.
Organizing your photos
Then you can organize the photos, copying or moving them into different collections. These groups of photos appear in the Collections panel when you return to the desktop.

Sharing your photos
Finally, you can share your edited photos with others directly from your phone, displaying a slideshow, sharing via Facebook, Twitter or email, or by sending them to another app of your choice.
Adding new photos from your phone
But what if you've shot some photos using your phone? Lightroom can import any JPEG or PNG files and upload them to your Lightroom desktop catalog automatically, so you don't even have to wait until you get home to start editing them.
Early Days
Lightroom for mobile doesn't offer the same feature-set as Lightroom for desktop. Mobile apps are better for their simplicity, and some tasks are better suited to a touch environment than others.
It's early days, and the mobile app will grow over time, just like its desktop companion. The first Lightroom public beta for the desktop didn't even have a crop tool, but look at it now!
Web view
Having uploaded your photos to Lightroom Sync, you can also view the galleries in your web browser, and share certain links with friends and family. Simply visit http://lightroom.adobe.com using any web browser, and log into your account.

So how much does it cost?
The best news is it's FREE if you have a Creative Cloud subscription, either for the full Creative Cloud or for the $9.99/month Photography Bundle. That bundle is a fantastic deal! The Photography Bundle includes the latest version of Lightroom (so that'll include LR6, when it's released), the latest version of Photoshop CC, 2GB of CC cloud space, PLUS it now includes an unlimited amount of Lightroom Sync space.
If you're not keen on subscribing to software, that's ok. Lightroom mobile does require cloud access, so you would need to sign up for the Photographer's Bundle if you want to use it, but you can still keep your perpetual license for Lightroom, and just use the Lightroom Sync space part of the cloud subscription. You might even be tempted to play with Photoshop CC. And there's a 30 day trial, so you can test it for yourself before making a decision.
Get started
So how do you get started? You'll need to be running Lightroom 5.5 or later. Click the Identity Plate to sign in with your Adobe ID, then add a special sync checkmark next to the Collections you want to sync. You can watch the upload progress in the Activity Center.

Then go to the Google Play Store and download the Lightroom app.
Curious to learn more?
You could spend a few hours tapping around the app, and figuring it out as you go along, but there are some hidden tricks and workarounds I think you'll want to know about, so I've created a 93 page eBook to save you some time and help you get the best out of it. (If you already have the iPad version, it's virtually the same, but with a few operating system differences and Android screenshots)

For advanced users, there are cheat sheets showing all of the touch commands, including a few hidden tricks, and there are also some geeky workarounds for Lightroom mobile's limitations.
If you're more technically challenged, don't worry, it also covers everything step-by-step using my popular conversational FAQ format.
The Lightroom mobile for Android book costs just £3.95 GBP – or $6.45 USD* – and it comes in 3 popular eBook formats (PDF, ePub, Kindle). I'll continue to update it as new version 1 features are added. Even if you're not sure whether Lightroom mobile will fit into your workflow, you'll have all the information you need to quickly make a decision.
Tempted? Here's the purchase link to download your copy.
And most importantly… have fun!