The newest Mac operating system, macOS 14 Sonoma, goes live today. The big question is, do Lightroom and Lightroom Classic work?
It's a good question, as the last thing anyone wants is to update their Operating System only to find critical apps either don't work or don't work properly.
The short answer is – it's too early to be sure of all the potential issues. However, some issues are already known and are listed below. As we hear more, we'll update the list. But at this point, we'd recommend waiting at least for a few days or longer on production machines. It's not just Lightroom itself (and there are some issues, although these will be fixed), but we're also awaiting feedback on the compatibility of peripherals. Again, see our notes on these at the end of this post – we'll update as fixes or new drivers are available.
Update 1 November 2023: with the release of Lightroom Classic 13.0 and Lightroom Desktop 7.0, Adobe now supports Sonoma, and most peripherals and drivers now appear to have been updated too. We'd recommend caution if you're working to a deadline and also suggest you check driver compatibility for peripherals that you can't do without, but most people should be fine to update at this point.
Lightroom Classic
Lightroom Desktop (the cloud-based version)
No known issues at this time.
Wacom tablets
Update – Driver is now available. Currently, there is no updated driver for Wacom products. They recommend holding off on installing Sonoma until this has been developed. Here is their current statement Is there a driver for macOS 14, Sonoma?
Shuttle Pro (Contour Plus)
Updated – Driver is now available. The Driver page only shows support up to Ventura on their Drivers page, although we understand unofficially it should be compatible.
Other peripherals or software to check
Lightroom Classic Plugins and External Editors.
Printer drivers.
Scanner drivers.
Backup software compatibility.
We'll leave the blog comments open for you to share your experiences. As we gather more feedback, we'll continue to update this blog. 
To disable automatic updates, go to System Preferences > Software Update and uncheck Automatically keep my Mac up to date.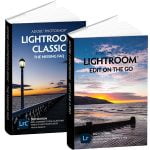 For extensive information on Lightroom Cloud Ecosystem, see Adobe Lightroom – Edit on the Go.
Note: purchase of this book includes the first year's cloud-based Premium Membership, giving access to download the latest eBook (each time Adobe updates the software), email assistance for the cloud-based Lightroom apps if you hit a problem, and other bonuses.
SaveSave
SaveSave
SaveSave
SaveSave
SaveSave
SaveSave
SaveSave
SaveSave
SaveSave
SaveSave
SaveSave
SaveSave
SaveSave
SaveSave