Whether you've used Lightroom for years, or you're just getting started, you've likely come across the fact that there's two completely different programs, both called Lightroom. If you're a little confused, you're not alone. So what's the difference? Which one is right for you? Which will suit your lifestyle and photography workflow? Or can you use them together? Let's find out…
Which is which?
Let's start by identifying the current Lightroom versions, and their main differences.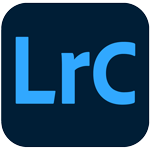 Lightroom Classic is the traditional version of Lightroom that's been around for years, hence the name Classic. It runs on Windows and macOS, and stores your photos in folders on your local hard drives. You're in charge of managing the files, the organization, the backups, etc. This is ideal for photographers with TB's of images, but requires reasonable computer literacy.
Since Lightroom Classic has been available for years, it has lots of features. This can be a benefit or a disadvantage. If you're an advanced user, the power and control it offers is huge, but if you're new to Lightroom, the learning curve may be a bit overwhelming. We've covered Lightroom Classic in detail in Adobe Lightroom Classic – The Missing FAQ.
Some photographers were concerned that the launch of the cloud-based Lightroom might mean the end of road for Lightroom Classic, but it's still being developed and improved.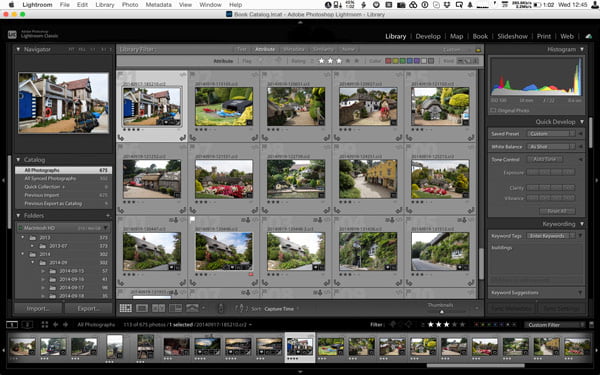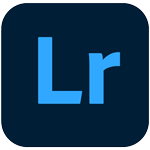 Lightroom (formerly Lightroom CC) is a family of apps that started out as a simple mobile app, and has grown into a full ecosystem that runs on Windows, macOS, iPadOS, iOS, Android, ChromeOS, tvOS and the web. For clarity, we'll refer to these apps as Lightroom (cloud ecosystem), to differentiate from Lightroom Classic.
The Lightroom (cloud ecosystem) apps are designed for modern living, so you can capture photos on your phone or load them from your camera, sort through them on your tablet when you have a few minutes to spare, edit them on your desktop, and then share them on the web.
Your photos are stored in the Adobe cloud, which means they're available on all of your devices. This doesn't mean you always need to be online, as you can also keep a local cached copy of some/all of the images for offline use. However, you do need reasonably fast internet access and plenty of bandwidth to get the photos to the cloud in the first place.
There aren't as many features in the Lightroom (cloud ecosystem) apps yet, as they're a lot younger, which means they're simpler to learn to use. While you can organize photos into albums, you don't have to worry about the file management, making it ideal for those with less computer experience. The Edit mode is powerful, but many of the sliders are hidden by default, so isn't intimidating to newer photographers. The Adobe Sensei artificial intelligence search facilities make it easier to find photos, even without spending time manually adding keywords. Since much of its power is hidden, we've covered the Lightroom (cloud ecosystem) in detail in Adobe Lightroom – Edit Like a Pro.
Why two different apps?
But why couldn't Adobe make one Lightroom app to do it all? Quite simply, while there are similarities, the concepts and foundations are very different. A boat and a car are both used for transportation, but they're not interchangeable!
Likewise, Lightroom Classic and Lightroom (cloud ecosystem) are both used for organizing and editing photos, but they don't think the same way. Classic is designed to catalog photos stored on the hard drive with lots of user-control, whereas Lightroom (cloud ecosystem) is designed to manage the photos in the cloud for you. Both the local file system and the cloud want to be in charge of your photos, which would result in lots of conflicts.
Can't you just sync them both?
Lightroom Classic can sync with the cloud, so can you use them together to have the best of both worlds? Yes and no. Lightroom Classic is not a member of the Cloud ecosystem – it's more like a distant cousin. It has a basic understanding of Lightroom (cloud ecosystem) sync language, from the mobile app's early days, but it doesn't understand how to sync newer Cloud additions like keywords or album folders, and it gets itself in a tangle from time to time.
For a simple life, pick one or the other. If you're happy to play referee in the case of conflicts, you can sync Lightroom Classic with the cloud, but you'll need to decide which one you consider your primary archive (folders or cloud) and which you'd be willing to wipe and start over in the event of an unfixable conflict.
In the most reliable Classic/Lightroom (cloud ecosystem) "best of both worlds" workflows, Classic is the primary archive. Smart previews can be synced up to the cloud, for viewing and editing in the Lightroom (cloud ecosystem) apps, and photos added to the Lightroom (cloud ecosystem) apps automatically download into your Classic archive.
How do I decide?
So the next question has to be, how do you decide which Lightroom version should care for your primary photo archive? Is Lightroom (cloud ecosystem) right for you, or would you be better with Lightroom Classic?
Some decisions are fairly straightforward, for example:
If you're a wedding or portrait photographer shooting thousands of photos every week, it's a pretty easy decision, as cloud storage is still more expensive than local storage. Classic is the way to go.
If you're a new photographer, your main camera is a mobile phone and you have fast internet, Lightroom (cloud ecosystem) would be a great choice.
If you started with Lightroom 1 and you're now an advanced user, you're likely best sticking with Classic (at least for now), as you'll probably find the more limited feature set frustrating.
If you enjoy photography but your computer seems to break every time you so much as look at it, Lightroom (cloud ecosystem) is the safer bet.
If you have slow internet or limited bandwidth, it's a pretty easy decision to go with Classic, as syncing Lightroom (cloud ecosystem) would be painful.
If you're trying to fit photography into a busy lifestyle, with a mix of phones, tablets, laptops and desktops, having your photos available on every device is a massive advantage, which makes Lightroom (cloud ecosystem) an obvious choice.
If you frequently print to a local printer, or use third-party editors such as Nik or Topaz, then Classic is a better choice.
But what if your situation is a little less clear cut? In that case, it's time to weigh up priorities:
Do you have fast unmetered internet, at least at home?
Do you do most of your organizing and editing on a single desktop/laptop computer? Or are you trying to move between multiple devices, whether a desktop and a laptop, or mobile devices too?
How many photos do you have? Do you just need to be a bit more ruthless when deleting photos, or do you simply have too many photos to make cloud storage economically viable?
Which features are most important to you? Classic has many organizational tools and traditional output tools (print, book, slideshow) that aren't yet available in the Lightroom (cloud ecosystem) apps, but the Lightroom (cloud ecosystem) apps are far better at multi-device workflows and web sharing. There's a chart below, highlighting the main similarities and differences, to help get you started.
One warning: when weighing up your priorities, don't decide solely based on features. While it may be nice to have access to every tool in the toolshed, think about whether you actually need them. If easy multi-device access is important to you, you may be surprised how little you miss some tools.
And finally, a suggestion. The decision you make today may not be the same decision you'd make in a year's time, but it's ok to change your mind. Lightroom (cloud ecosystem) is still young, so it's continuing to mature. These are the changes made since its release. So if you're on the fence, it's worth revisiting the decision from time to time.
Feature Comparison
Classic
Cloud Ecosystem
Storing Photos
Originals stored locally
Yes
Optional
Split originals across multiple different hard drives
Yes
No
Originals uploaded to cloud
No
Yes
Originals downloaded on demand
N/A
Yes
Automatically manage hard drive space used
No
Yes
Split into multiple catalogs
Yes
No
Import
Import raw, JPEG, PSD, TIFF, DNG, HEIF, PNG and some video formats
Yes
Yes
Add to collection/album
Yes
Yes
Change sort order / filter photos in Import dialog
Yes
No
Add metadata during import
Yes
Copyright only (added Feb 2018)
Apply camera defaults during import
Yes, per-camera
Yes, single default
Apply develop presets during import
Yes
Only as default setting
Rename photos during import
Yes
No
Import from iPhoto/Aperture/Photos
iPhoto/Aperture only
Yes, from Photos (and iPhoto/Aperture by upgrading libraries to Photos format) on macOS, added in Oct 2018
Import from Photoshop Elements
Yes
Yes
Tethered Shooting & Watched Folders
Yes
No
Viewing Photos
View Photos in Grid View
Yes
Yes
View Photos in Loupe/Detail View
Yes
Yes
Zoom in on photos
1:16 – 11:1
Fit – 2:1
View Photos in Survey View
Yes
No
View Photos in Compare View
Yes
Yes
Secondary Screen
Yes
No
Organizing Photos
Organize using Folders on the Hard Drive
Yes
No
Organize using Collections / Albums
Yes
Yes
Quick Collection / Target Collection
Yes
Yes, added in Oct 2018
Stack photos
Yes
Yes, desktop only
Rename photos
Yes
No
Delete photos
Yes, but no restore
Yes, with 60 days to undo
Viewing & Adding Metadata
View EXIF/IPTC metadata
Yes
Yes, limited
Star Ratings
Yes
Yes
Flags
Yes
Yes
Color Labels
Yes
No
Title, Caption
Yes
Yes
Copyright
Yes
Yes
Edit Capture Time
Yes
Yes, added in Dec 2017
Add other IPTC metadata
Yes
No
Keywords
Yes,  incl. hierarchical
Yes, flat only
View GPS
Yes
Yes, desktop only
Add GPS
Yes, using Map or co-ordinates
Yes, using co-ordinates or zip code, added in Oct 2021
Face recognition
Yes
Yes, added in Oct 2018
Write metadata to files
Yes
Only when saving a copy
Finding & Filtering Photos
Change sort order
Yes (13 options)
Yes (6 options)
Set custom sort order
Yes
Yes
AI-based text search without tagging
No
Yes
Filter on rating, flag, photo vs. video
Yes
Yes
Filter on keywords, locations or camera model
Yes
Yes
Filter on other metadata
Yes, using Metadata columns
Yes, using faceted search, added in Aug 2018
Save frequently used filter combinations
Yes
No
Smart Collections
Yes
No
Editing Photos & Videos
Exposure, Contrast, Highlights, Shadows, Whites, Blacks
Yes
Yes
Tone Curves
Yes
Yes, added in Dec 2017
Clarity, Dehaze & Texture
Yes
Yes
Color Adjustments (WB, HSL, Vibrance, Saturation)
Yes
Yes
Split Toning
Yes
Yes, added in Dec 2017
Sharpening, Noise Reduction, Grain
Yes
Yes
Lens Corrections
Yes
Yes
Chromatic Aberration/Defringe
Yes
Yes
Geometric Corrections (Upright)
Yes
Yes
Camera Calibration Sliders (Legacy)
Yes
No
Local/Selective Editing Tools
Cropping & Straightening
Yes
Yes
Spot Removal—Clone & Heal Tools
Yes
Yes
Red Eye & Pet Eye Correction Tools
Yes
Yes (Red Eye only)
Masking—Gradients & Brushes
Yes
Yes
Masking—Range Mask
Yes
Yes, added in Oct 2021
Local Adjustment Brush Presets
Yes
No
Post-Crop Vignette
Yes
Yes
Photo Merge
Stitch a panorama
Yes
Yes, desktop only, added in Feb 2019
Create an HDR file
Yes
Yes, desktop only, added in Feb 2019
Editing Tools
Copy/paste settings to multiple photos
Yes
Yes
Apply Profiles
Yes
Yes
Apply Presets
Yes
Yes
Create Presets
Yes
Yes (updated June 2018)
AI Recommended Presets
No
Yes
Sync Profiles & Presets to the cloud
No
Yes
Create Custom Defaults
Yes
Yes (added June 2020)
History
Yes
No
Before / After Preview
Yes
Yes
Reference View
Yes
No
Snapshots
Yes
Yes, using Versions (June 2020)
Create Copies
Yes, virtual
Yes, real (desktop only)
Soft Proofing
Yes
No
Viewing/Editing Videos
Play video clips
Yes
Yes
Clip beginning/end
Yes
Yes (June 2022)
Make color/tonal adjustments
Yes
Yes (June 2022)
Extensibility
Send to Photoshop
Yes
Yes
Send to Photoshop Elements
Yes
No
Send to Other External Editors
Yes
Desktop, no
Mobile, yes
Third-Party Plug-ins
Yes
No
Export
Export as new file name
Yes
Yes
Export file formats
Original, JPEG, TIFF, PSD, DNG
Original, JPEG, TIFF, PSD, DNG
Export color space
ProPhoto, Adobe RGB, sRGB, Display P3
ProPhoto, Adobe RGB, sRGB, Display P3
Export with resize
Yes
Yes
Export with output sharpening
Yes
Yes
Export with watermark
Yes, text or graphic
Yes, text or graphic
Export with specific metadata
Yes
Yes
Email Photos direct from Lightroom
Yes
Yes, but only on mobile
Publish Services
Yes
No
Send to Facebook
No (removed in August 2018 due to API change)
Yes, but only on mobile
Send to Flickr
Yes, as Publish Services
No
Output Modules
Book
Yes
Sync photos to Blurb Bookwright
Slideshow
Yes
Desktop, no.
Mobile & Apple TV, simple slideshow.
Print
Yes
No
Web
Yes
No
Multiple Computers/Devices
Use on secondary desktop
Using import/export catalogs
Yes, all photos
Use on mobile device
Sync smart previews to LR Cloudy, not all metadata syncs (e.g. keywords, people)
Yes, full size originals available
Access photos in a web browser
Sync smart previews to LR Cloudy
Yes
Share Lightroom Web galleries
Sync smart previews to LR Cloudy
Yes, with additional options
Which plan should you buy?
If you don't already have a subscription, here's the link you need. There's two main plans:
Lightroom 1TB includes access to the Lightroom (cloud ecosystem) apps on Windows & Mac (activated on 5 desktop/laptop computers at any one time), plus your various mobile devices, and 1TB of cloud space to store your photos.
Photography Plan 20GB or 1TB includes access to Lightroom Classic, Photoshop and Lightroom (cloud ecosystem) (activated on 2 computers at any one time), plus Lightroom Mobile  on your various mobile devices. It includes either 20GB or 1TB of cloud space, depending on which plan you choose.
But which plan will be best for you? Pick the combination of apps you want to use:
Classic only = Photography Plan 20GB
Lightroom (cloud ecosystem) only = Lightroom 1TB
Classic + Photoshop = Photography Plan 20GB
Lightroom (cloud ecosystem) + Photoshop = Photography Plan 1TB (or Lightroom 1TB plan plus Photography Plan 20GB for flexibility, as it's the same price and gives you 5 activated desktop/laptops for Cloudy instead of 2)
Classic + Lightroom (cloud ecosystem) (e.g. syncing Classic with the mobile apps) = Photography Plan with 20GB if you'll mainly be syncing photos up from Classic, or 1TB if you often add photos on your phone/tablet.
Cloud Mobile only = Lightroom 1TB. (There's also 100GB Premium in-app purchases available from the mobile app stores. They're a bit cheaper but only have 100GB of Lightroom Cloud space and are limited to that specific operating system.)
For extensive information on Lightroom Classic, see Adobe Lightroom Classic – The Missing FAQ.
If you have the Photography Plan, then as well as Classic you have access to the Lightroom cloud ecosystem including the mobile apps and web interface. For more information on these apps, see Adobe Lightroom – Edit Like a Pro.
Note: purchase of these books includes the first year's Classic or cloud-based Premium Membership (depending on the book purchased), giving access to download the latest eBook (each time Adobe updates the software), email assistance for the applicable Lightroom version if you hit a problem, and other bonuses.
We also have a special bundle offer for the two books. This includes Premium Membership for the first year as described above for the whole Lightroom family!
Originally posted 18 October 2017, updated for all of the changes in October 2021. The features chart continues to be updated with new features as they're released.