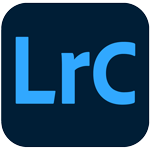 If you're having preview problems of any description, the monitor profile is a likely suspect. This is especially if you've recently upgraded your operating system or graphics card driver, or installed a new monitor. To rule out the monitor profile as the cause of the problem, you can temporarily replace it:
Windows
Close Lightroom.
On Windows 7/10, go to  or type  in the Start menu search box. On Windows 8, use the Search charm to search for 'color management' and then select .
Click the  tab if it's not already selected.

From the 

Device

 pop-up, select your monitor. If you have more than 1 monitor connected, pressing the Identify monitors button displays a large number on screen for identification.
Check the 

Use my settings for this device

 checkbox.
Make a note of the currently selected profile, which is marked as (default). If there isn't an existing profile, you can skip this step.
Click the 

Add

 button.
In the Associate Color Profile dialog, select 

sRGB IE61966-2.1

 (sRGB Color Space Profile.icm) and press 

OK

.
Back in the Color Management dialog, select the sRGB profile and click 

Set as Default Profile

, and then close the dialog.
Mac OS X
Close Lightroom.
Go to 
Select the 

Color

 tab.
Press the 

Calibrate

 button and follow the instructions.

Generally setting white point to D65 is best.
Finally, restart Lightroom and check whether everything looks correct. If it does, you've confirmed that the previous monitor profile was the cause of the problem. You can temporarily leave sRGB as the monitor profile, as it's better than a corrupted one, but it would then be wise to calibrate your monitor accurately using a hardware calibration device.
Monitor Calibration
The only real way of calibrating a monitor is with a hardware calibration device. Software calibration is only ever as good as your eyes, and everyone sees color differently, but calibration hardware, such as the ColorMunki, i1 Display Pro or Spyder devices are now inexpensive, and an essential part of every keen digital photographer's toolkit.
Most calibration software offers an advanced setting, so if it gives you a choice, go for a brightness of around 100-120 cd/m2, 6500K or native white point for an LCD monitor, and most importantly, an ICC2 Matrix profile rather than an ICC4 or LUT-based profile, as these more recent profiles aren't compatible with many programs yet.
For extensive information on Lightroom Classic, see Adobe Lightroom Classic – The Missing FAQ.
If you have the Photography Plan, then as well as Classic you have access to the Lightroom cloud ecosystem including the mobile apps and web interface. For more information on these apps, see Adobe Lightroom – Edit Like a Pro.
Note: purchase of these books includes the first year's Classic or cloud-based Premium Membership (depending on the book purchased), giving access to download the latest eBook (each time Adobe updates the software), email assistance for the applicable Lightroom version if you hit a problem, and other bonuses.
We also have a special bundle offer for the two books. This includes Premium Membership for the first year as described above for the whole Lightroom family!
Originally posted 22 December 2014, updated for Lightroom Classic in 2019.