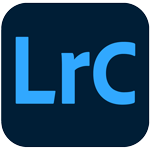 Moving Lightroom to a new computer can appear daunting at first, especially if you're moving cross-platform, but rest assured, it's straightforward as long as you follow these simple steps.
Note: FREE eBook that gives more extensive step-by-step guide now available!!!
1. Preparation – set up your folder hierarchy
It's a good idea to make sure that Lightroom's Folders panel shows a tidy hierarchy before you back up the catalog. You may need relink the files if the relative folder location, or the drive letter for an external drive, changes as a result of the move. Doing so using a hierarchy (right screenshot) is much easier than a flat list of folders (left screenshot). There are instructions on setting up a folder hierarchy here. It's especially important if you're moving to a different operating system.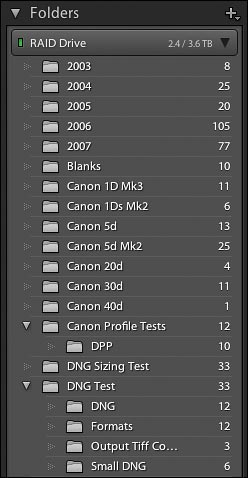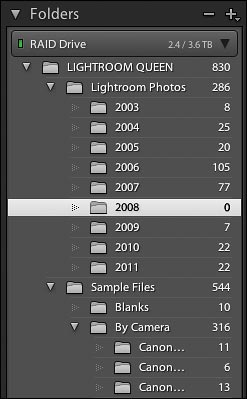 2. Check your backups
Next, you need to make sure that all of the essentials are backed up—the catalogs, photos, preferences, presets, profiles, defaults, plug-ins and any other related files. Click here for a full list of all the Lightroom files you need to include in your backups. If you're wiping the hard drive in the process, rather than running both machines at the same time, it's even more important to make sure that you don't miss anything.
For extra security, you may choose to write most of your settings to the files, in addition to your catalog backups. To do so, select all of the photos in Grid view and press Ctrl-S (Windows) / Cmd-S (Mac). That stores your most crucial settings with the files themselves, which can be useful if you make a mistake, but the files won't include flags, collections, virtual copy data, stacks and a variety of other information which is only stored in the catalog, so you'll still need to follow the rest of the instructions to transfer your catalog.
3. Install Lightroom on the new machine
Once everything's safely backed up, we're ready to set Lightroom up on the new computer.
If you're a subscriber, you can sign in and start the download from this page of Adobe's website. (If you've been using Lightroom for some time, you probably want to install Lightroom Classic CC, as Lightroom CC is a new/different cloud-based application. You can learn more about the differences here.)
If you still use Lightroom 6 or earlier, you can download the installer from Adobe's website.
For LR5 and earlier, you can just download the latest update for your Lightroom version (e.g. 5.7 if you own LR5), and then enter your serial number(s), whereas LR6 requires installing 6.0 and then the last update patch. If your license is an upgrade version, you may need the serial number from an earlier version as well as the current Lightroom serial number.
4. Copy the files
Using Windows Explorer (Windows) / Finder (Mac), copy the files—the catalog, the photos, preferences and so forth—and place them in the same locations as they were on the old computer. Most people use an external hard drive for the transfer, or a wired network connection.
The process of moving your catalog cross-platform is exactly the same as moving to a new machine of the same platform. If you're transferring between platforms, it's even more important that you set Lightroom to show the folder hierarchy (step 1) to make it easy to relink missing files, as Windows works with drive letters and Mac OS X works with drive names.
If you're moving from Windows to Mac or vice versa, some of the file locations will be different, especially for preferences and presets. The locations of those files on both platforms are listed here (LR Classic / LR6 / LR5 / LR4).
There's just one other main thing to look out for if you're moving cross-platform—the Mac OS can read natively Windows NTFS formatted drives, but can't write to them, and Windows can't read or write to Mac HFS formatted drives. If you're going to use your external drives with a different operating system, you may need to reformat them at some stage, after having copied the data off safely to another drive, of course. If you're constantly moving between Mac and Windows, consider formatting transfer drives as FAT32, or using additional software such as NTFS for Mac and HFS for Windows that will allow either operating system to have read/write access regardless of drive format, but be aware that it may be slower than using a native drive format.
5. Open the catalog on the new computer
Then it's time to open the catalog, which you've already transferred. Double-click on the *.lrcat catalog file to open it, or hold down Ctrl (Windows) / Opt (Mac) to show the Select Catalog dialog when launching Lightroom and navigate to the catalog.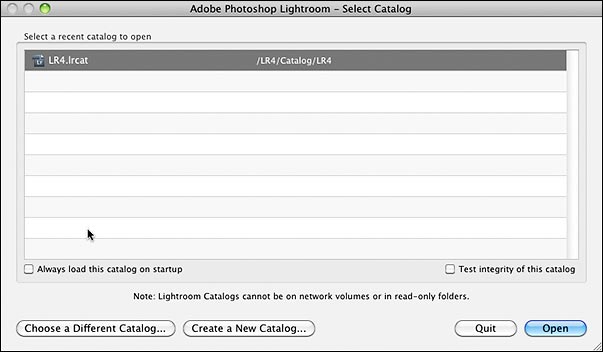 6. Relink any missing files
You might find that there are question marks all over the folders or there are icons in the corners of the thumbnails—question marks in LR4, or rectangles with or without exclamation marks in LR5 and later. Those warnings appear if the original photos can no longer be found at the previous known location. STOP!  Don't be tempted to remove the missing photos and re-import, or try to synchronize a folder, and don't try to relocate individual files by clicking on a thumbnail icon, as you'll create a bigger job.
If the photos were stored on an external drive, but the Windows drive letter has changed, you can simply reset the drive letter.
Otherwise, right-click on the parent folder that we created in step 1, and choose Find Missing Folder from the context-sensitive menu, and navigate to the new location of that folder. Relocate any other top level folders (you should have one for each drive), until all of the photos are online. There are more details on reconnecting missing files here. If you get stuck at this stage, please ask on the forum and we'll help.

7. Check your preferences and presets
Double check that all of your presets and templates appear correctly, for example, all of your Develop presets are available in the Develop module, to confirm that you copied all of the files correctly.
8. Reload any disabled plug-ins
Finally, you might find your plug-ins need reloading as the locations may have changed in the move. Go to File menu > Plug-in Manager and check whether all of the plug-ins have green circles. If any plug-ins are incorrectly loaded or missing, add them again at their new locations.
That's it!
It's as simple as that.  The main things to remember are to transfer all of the applicable files onto the new computer, don't try importing anything, and don't wipe the old machine until you've checked that everything's up and running. When you're finished with the other machine, go to Help menu > Sign Out or simply uninstall Lightroom, in case you need to activate Lightroom on another computer in future.
Note that these instructions are for a one-way move, for example, moving from an old computer to a new one, or reinstalling your operating system. If you want to work on multiple computers, for example, transferring between a desktop and a laptop, check back for future blog posts.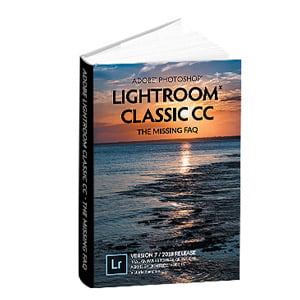 For many more questions and tips on Lightroom Classic, see my book Adobe Lightroom Classic – The Missing FAQ.
SaveSave