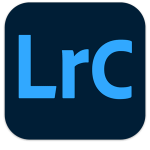 You have all your photos in Lightroom, and you've edited them beautifully, but now, how do you get them out? Perhaps to take them to be printed? Or to email to a friend?
To export your finished photos, select them and then go to File menu > Export or press the Export button at the bottom of the left panel group in Library module.
The Export dialog has numerous buttons and checkboxes, so where do you start? Here's the main settings you'll need to check:
The Main Export Settings
Export Location—choose the destination folder for the exported photos.
File Name—you can rename on export, for example, creating a template for Sequence #(001)-Filename will put a sequence number before your existing filename to ensure that they sort correctly in other software.
File Format—JPEG is an excellent choice for web, email, etc. You'll need to select a quality setting. TIFF is best for pixel editors such as Photoshop. Original format is a duplicate of the original photo, with extra metadata, but without your Develop adjustments applied.
Color Space—Lightroom offers a choice of different color spaces when you output photos. Large color spaces (ProPhotoRGB and AdobeRGB) retain the most data, so they're used when transferring photos to Photoshop, but they'll look odd in programs that aren't color managed, such as web browsers. Use sRGB for screen output, emailing or uploading to the web. For additional information, have a look at Which color space should I use?
Image Size—refers to the pixel dimensions of the photo.
Output Sharpening—select Screen for screen/web use, and the type of paper for prints.
Common Export Settings
Here's some common export settings you might use as a starter:
Email—Longest Edge 800px, and you can ignore the resolution as we're specifying the size in pixels. Format JPEG, quality 65. sRGB.
4" x 6" digital print—Dimensions 4" x 6" at 300ppi. Format JPEG, quality 80. sRGB.
8" x 10" digital print—Dimensions 8" x 10" at 300ppi. Format JPEG, quality 80. sRGB.
Full resolution master—uncheck the Resize to Fit checkbox. Format TIFF/PSD as ProPhotoRGB or JPEG quality 90-100 as AdobeRGB.
Finally, here's a blog looking at how to figure out the right image resolution and PPI for your needs.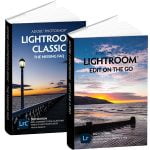 For extensive information on Lightroom Classic, see Adobe Lightroom Classic – The Missing FAQ.
If you have the Photography Plan, then as well as Classic you have access to the Lightroom cloud ecosystem including the mobile apps and web interface. For more information on these apps, see Adobe Lightroom – Edit on the Go.
Note: purchase of these books includes the first year's Classic or cloud-based Premium Membership (depending on the book purchased), giving access to download the latest eBook (each time Adobe updates the software), email assistance for the applicable Lightroom version if you hit a problem, and other bonuses.
We also have a special bundle offer for the two books. This includes Premium Membership for the first year as described above for the whole Lightroom family!