Thumbnail icons seem to be going AWOL this week. I've had a number of people asking about missing thumbnail badges, both in the Grid view and Filmstrip, so here's the rundown of settings:
The Grid View
In the Grid view, there are 3 different styles of thumbnail, which you can cycle through using the J key on your keyboard or by going to View menu > Grid View Style.
To control the information shown on your thumbnail cells, go to View menu > View Options. There are loads of different options, so I've marked up their names on the thumbnail below.
The Filmstrip
The badges can also go missing in the Filmstrip. Most frequently, it's simply because the Filmstrip is too small. If you don't think you've changed any settings, try enlarging the Filmstrip by dragging the top edge.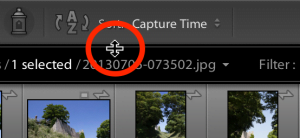 If that doesn't bring the badges back, go to Edit menu (Windows) / Lightroom menu (Mac) > Preferences and select the Interface tab. The checkboxes in the Filmstrip section control the Filmstrip badges.

You can also access them by right-clicking on the Filmstrip and selecting View Options from the context-sensitive menu.
The next time your thumbnail icons go AWOL, you'll know where to look!