Since version 3, Lightroom has offered a number of profiles to emulate different in-camera picture styles, but they've been hidden away in the Camera Calibration panel so most people didn't know they existed. In the April 2018 Lightroom releases, these profiles have become first-class citizens, moving to the top of the Develop panels, and many more profiles have been added.
Profiles are designed to be selected first, before you start editing, just like choosing a specific film stock for it's unique "look." You can select a different profile at any time, and your slider values will remain untouched, but the look of the photo may change considerably, so it's more efficient to select your profile before you start editing.
Browsing & Applying Profiles
The Profile pop-up is found at the top of the Develop Basic panel in Lightroom Classic (left), or in the Profile panel in the Lightroom CC apps (right).

To view the full range of profiles, click the Browse button (the four-squares icon in Lightroom Classic) to open the Profile Browser panel.
The thumbnails may be a little small to preview properly, so to preview a profile on the main image preview, simply float over the profile thumbnail or name.
When you're ready to apply the profile, click on it and then click the Close button at the top to return to the normal Develop panels, or double-click on the profile to do both at once.
Over the course of time, you're likely to find you use some profiles more than others. By clicking the star icon in the corner of the thumbnails, you can mark these profiles as your favorites. This groups them in the Favorites folder, and also adds them to the main Profile pop-up, so you don't have to open the Profile Browser every time you want to switch profiles.
As you look through the profile browser, you'll note that the profiles are grouped into sections, and then into folders. There are no profile management tools yet, so you can't hide, rename, delete or reorganize the profiles in Lightroom. The Camera Raw plug-in for Photoshop does already have profile management tools, such as the ability to hide profiles and profile sets, and any changes you make in Camera Raw apply to Lightroom as well.
Profiles for Raw Files
There are two main types of profiles – camera-specific profiles and creative profiles. Camera-specific profiles only apply to raw photos, so for rendered files (JPEG/TIFF/PSD/PNG), you'll find a Basic folder containing just Color and B&W.
Adobe Raw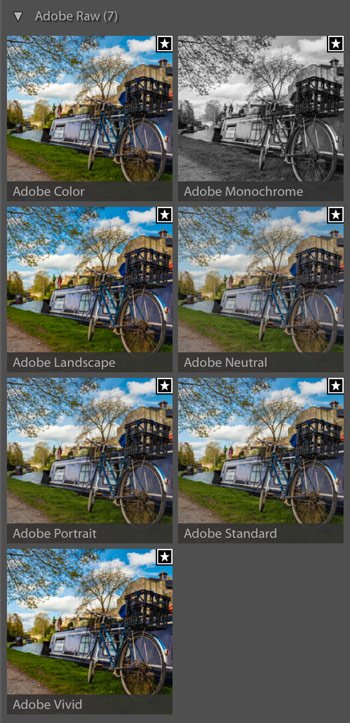 The Adobe Standard profile has been the default since Camera Raw's inception. It was intended as a good starting point for your edits, and it aimed to make photos from different cameras look as similar as possible.
Lightroom Classic now has a number of additional variations on Adobe Standard, each optimized for their intended purpose, including:
Adobe Color is the new default for color photos. It adds a little more contrast and saturation, while attempting to protect the skin tones. The aim is to look great on a wide range of photos.
Adobe Monochrome is designed to be a better starting point for B&W photos, with improved tonal separation.
Adobe Portrait is optimized for a wide range of skin tones, including very pale skin and very dark skin, so it's ideal for portraits and family shots.
Adobe Landscape removes the skin protection and compresses the tones to give a little more headroom for outdoor photos that often have a wide dynamic range, and the blues and greens are enhanced to benefit many landscape photographs.
Adobe Vivid looks like it's on steroids, with a very punchy and saturated effect. It's great for sunsets!
Adobe Neutral is a very flat starting point, ready for you to edit in your own way. It's ideal for photos with tricky colors and gradients that just don't quite work with the other profiles.
Camera Matching
The camera matching or camera emulation profiles have been available for years, hidden in the Camera Calibration panel, but they're now easier to find. They're designed to mimic your camera JPEG, so they'll more closely match the image you saw on the back of the camera, although they're not available for all cameras.
Profiles
The Profiles folder contains camera-specific (.dcp extension) profiles that you created using the DNG Profile Editor or X-Rite ColorChecker Passport plug-in, or older camera-specific profiles created by third-parties such as VSCO or RNI Films.
Legacy Profiles
The Legacy Profiles folder contains B&W versions of the old profiles. As the folder name suggests, these are just to maintain compatibility with edits done using previous Lightroom versions.
Creative Profiles for Any File Type
The next section of folders contains a selection of creative profiles. These are primarily designed to apply special effects or a specific "look" to your photo, and they'll work for rendered files (JPEG/TIFF/PSD/PNG) as well as raw photos.
Unlike the cameras-specific profiles, they're designed to not need much further tweaking, beyond corrections for exposure, lens distortion, sharpening, etc.
The Modern profiles represent current fashions in photography, while the Vintage profiles are designed to look more like film photos. The Artistic profiles are designed to be more edgy, with stronger color shifts.
The B&W profiles are optimized for high impact black and white work, offering a range of color channel mixes and tonal adjustments. In addition to the selection of numbered B&W profiles, there are additional profiles to imitate the effect of adding a red, orange, yellow, green or blue filter that are traditionally used at the time of capture when shooting B&W film.
The effect of the Creative profiles can be faded or exaggerated using the Amount slider at the top of the Profile Browser panel or Basic panel. 100 applies the effect as the developer intended, but moving the slider to the left reduces the effect of the profile, and moving it to the right exaggerates the effect.
Buying Profiles vs. Presets
Creative Profiles sound a bit like the Develop Presets you can download online, so what's the difference?
Layered Adjustments – Presets save sets of sliders values to easily apply to other photos, but because they move sliders, they can overwrite the edits you've already made to a photo. If you've increased the Exposure by +1 to correct for underexposure, many presets will wipe out this edit. Profiles, on the other hand, act like a separate layer of adjustments, so they don't move visible sliders.
Smarter – Profiles are also smarter than presets. They can contain normal slider adjustments to be applied "behind the scenes", but they can also include LUT's (Look Up Tables) for much more advanced color adjustments. 3D Look Up Tables can, for example, tell Lightroom to make this shade of blue yellower and make this shade of blue more saturated and this shade of blue lighter. The tables allow profile developers to apply specific adjustments in very precise, targeted ways that are not possible through any of the current sliders.
Fade – Creative Profiles can also be faded or exaggerated using an Amount slider, depending how strong you prefer the effect to look, whereas presets require a plug-in to accomplish this task.
Creation Tools – You can create presets yourself very easily using Lightroom, whereas creative profiles use a separate tool and will generally be created by professionals. (Developers and interested geeks can download the SDK from Adobe's website.)
So in summary, they're different tools for different jobs. Presets are best used for your own creations, and for modular systems (use this preset for sharpening and a different one for grain), whereas commercial developers will gradually move over to creating profiles for their film effects and similar, because the profile editor allows them greater control.
Presets can select profiles, for example, if you always add grain, a vignette and a little contrast to the Vintage 08 profile, you can create a preset that selects the profile and makes the slider adjustments in a single click.
Third-Party Profiles
Some third-party profiles are already available from companies such as ProLost, Contrastly, DVLOP, Keven Kubota, Matt Kloskowski, Nicolesy, and RNI Films, although these are currently limited to the desktop apps (profiles and presets don't currently sync to mobile). I've only seen the ProLost ones so far (samples below, images ©ProLost), but it's interesting to see the variety of looks already being created.
More Information
For extensive information on Lightroom Classic, see Adobe Lightroom Classic – The Missing FAQ.
If you have the Photography Plan, then as well as Classic you have access to the Lightroom cloud ecosystem including the mobile apps and web interface. For more information on these apps, see Adobe Lightroom – Edit Like a Pro.
Note: purchase of these books includes the first year's Classic or cloud-based Premium Membership (depending on the book purchased), giving access to download the latest eBook (each time Adobe updates the software), email assistance for the applicable Lightroom version if you hit a problem, and other bonuses.
We also have a special bundle offer for the two books. This includes Premium Membership for the first year as described above for the whole Lightroom family!