On February 19th 2007 – 10 years ago today – Adobe officially announced the release of Lightroom 1.0. How time flies! So today, I thought we'd take a trip down memory lane…
Lightroom Betas
On January 9, 2006, Adobe released the first public beta of Project Shadowland, which became Lightroom. The project had already been in development for a few years, and Jeff Schewe does an excellent job of telling the story of the earliest stages.
The first beta was only for Mac OSX and didn't even have a crop tool, although that was quickly added. The Develop module had many of the tools from Photoshop's Camera Raw plug-in, so even in its earliest stages, it was a capable raw processor. Further beta versions added Windows support, hierarchical keywords, Develop History, the Web module, and more.
In June 2006, Adobe purchased Pixmantec, and its developers moved over to work with Thomas Knoll on the Camera Raw raw processing engine for Lightroom, resulting in new sliders such as Vibrance.
Over 500,000 individuals were reported to have used the beta versions. I recently installed beta 2 in a virtual machine, so here are a few screenshots, showing just how far we've come. How distracting those bright panels were!
In 2006, the Canon 1DS Mk II (16.7MP), 5D (12.8MP) and 30D (8.2MP), and the Nikon D2Xs (12.4MP) and D200 (10.2MP) were current. What a contrast with the huge sensors we see today!
In 2006, there was no such thing as a tablet, most people had never heard of smartphones, and the first Intel MacBook Pro had only just been released. 2GB of RAM was considered high-end, with many systems shipping with just 512MB. Those were the days of 80GB hard drives. Twitter wasn't even launched until July 15, 2006! Photoshop was still on CS2.
I bought my first Mac to run those early Lightroom betas, but I'd just started a raw processing business, so I didn't have much time to play. Nevertheless, I saw enough to know it was going to be great.
Lightroom 1
On February 19, 2007, Lightroom 1.0 was officially released. The release version had some major changes from the earlier betas. In the Library module, Folders replaced the previous Shoots concept, and a Survey view was added. You could flag and label photos, filter photos based on their metadata, create virtual copies and snapshots, and stack similar photos. The Develop module gained the TAT tool, red eye reduction and spot removal.
As is often the case with brand new software, development continued at a remarkable pace over the following months. Dot releases added the ability to use multiple catalogs and transfer photos between them. The Develop module also gained better sharpening controls and the Clarity slider, and the Painter tool was added to the Library module.
2007 was also the year of the first iPhone, the Kindle, and the year Dropbox was founded. Photoshop CS3 was released on April 16, 2007.
I had a Lightroom training session booked for just one week after 1.0's release (hello Dan & Ann!), so I had to learn quickly. Of course, it was a much simpler program in those days.
I've always been a big fan of keyboard shortcuts and there wasn't a list available, so I immediately set about tracking down all the known shortcuts, and more importantly, the hidden ones. I've continued to update the list with each new release, so if you ever need keyboard shortcuts, you'll find them in the Resources section of this website. With each new release, I also started publishing a detailed blog post on what had changed. That series is still running today, in the "What's New in This Release" category.
I spent a lot of time on the forums over the following months, and that's where I was given the nickname "The Lightroom Queen." Since I was answering many of the same questions over and over again, fellow forum members suggested I turn all of these FAQ's into a book, and so this Lightroom Queen website and the Missing FAQ series of books were born. It was a much smaller book in those days, with the LR1 book totalling around 42,000 words.
Lightroom 2
On April 2, 2008, a public beta of Lightroom 2 was released, followed by the official release of 2.0 on July 29, 2008.
The Library module added better filtering and smart collections and Lightroom started suggesting keywords based on previous keyword combinations and images nearby.
The Develop module gained the adjustment brush, graduated filter and post-crop vignette. The DNG Profile Editor and Camera Emulation profiles were also released for the first time with 2.0.
Other improvements included 64-bit OS support, dual monitor support, output sharpening, picture packages and JPEG output in the Print module, and more.
In 2008, the Canon 1DS Mk III (21.1MP), 5D Mk II (21.1MP) and 50D (15.1MP) and the Nikon D3 (12MP), D700 (12.1MP) and D300(12.3MP) were popular choices. Sensor sizes were growing, and more importantly, the noise in high ISO images was starting to improve.
Also in 2008, the first Android smart phone was released, iPhone was updated to 3G, the iOS App Store was launched, and Google released the first public version of Chrome. Photoshop CS4 was released on October 15, 2008.
I'd released my first Missing FAQ book, for version 1.4.1, just a few weeks earlier, and the Lightroom 2 version was ready for release day. Shortly after my Lightroom 2 book was published in PDF format, readers started requesting printed versions, so a few months later it was published in B&W print for the first time.
Lightroom 3
On October 22, 2009, Adobe released the first public beta of Lightroom 3. A second beta followed in March 23, 2010, and Lightroom 3.0 was finally released on June 8, 2010.
Image quality was priority for this release, so the raw processing engine was given a major overhaul with new demosaic algorithms, improved sharpening and noise reduction, new lens and perspective corrections, a more advanced post-crop vignette, grain effect and a point curve. This was called PV2010, which replaced the earlier PV2003.
The Library module added Publish Services for managed exports, making it easy to keep photo sharing websites updated with changes.
The new Import dialog was the biggest visual change – and the biggest shock for many users. It went from being a very simple dialog with minimal controls, to a much more complex and capable dialog.
Other improvements included watermarks, custom print packages, tethered shooting, and basic video support.
In 2010, the Canon 5D Mk II (21.1MP), 7D (18MP) and 60D (18.1MP) and the Nikon D3S (12.1MP), D700 (12.1MP) and D300S (12.3MP) were popular choices.
In 2009, Gmail came out of beta, and for the first time, Facebook saw more traffic than MySpace. In 2010, we were introduced to the iPad, and Instagram was launched. 2011 saw the first "phablet"  with the release of the Samsung Galaxy Note. Photoshop CS5 was also released on April 30, 2010.
The beta period was so long that I released "rough cut" versions of my Lightroom 3 book. With the increasing popularity of eReaders, the final version of the book was released for the first time in ePub and Kindle formats, as well as PDF and B&W paperback.
Lightroom 4
On January 9, 2012, Lightroom 4 beta was released. It was just a short beta this time, with Lightroom 4.0 released on March 5, 2012.
Lightroom 4 was a huge release, adding 2 new modules (Book & Map) and completely rewriting the Basic panel tools, with the release of PV2012 and its tone-mapped Highlights/Shadows sliders.
The Develop module also added soft proofing, RGB curves, more local adjustments, intelligent chromatic aberration controls, support for 32-bit HDR files, and folders for Develop presets.
The Library module added basic video editing, export direct to email, reverse geocoding and changed flags from local to global.
There was also a new lossy DNG format, which allowed the creation of much smaller files with much of the editing flexibility of raw files.
To top it all off, Adobe halved the price tag! This meant that Lightroom was now within reach of many amateur photographers, as well as professionals.
By 2012, we were using cameras like the Canon 1DX (18.1MP), 5D Mk III (22.3MP), 7D (18MP) and 60D (18.1MP) and the Nikon D4 (16.2MP), D800 (36.3MP) and D300S (12.3MP).
In 2012, Facebook officially had more than 1 billion active users for the first time, and Pinterest became available to everyone. Photoshop reached CS6 on May 7, 2012, as the last of the Creative Suite versions.
In November 2011, Adobe had announced their plans for the Creative Cloud subscription service, and on June 26, 2012, Lightroom was added to the Creative Cloud for the first time. Just over a year later, on September 4, 2013, they announced the Photographer's Bundle at just $9.99 a month… and 3 1/2 years on, the price still hasn't increased (other than for currency fluctuations in some regions).
There were so many changes in Lightroom 4, I decided to completely rewrite the book, making it a more complete guide to Lightroom. The book grew fast, going from around 100,000 words for LR3 to more than 150,000 for LR4.
Lightroom 5
Lightroom 5 followed only 15 months after Lightroom 4's release, with the public beta being released on April 15, 2013, and the Lightroom 5.0 release following on June 10, 2013.
It was a smaller release this time, but with some very nice tweaks. The Library module gained the ability to build and use Smart Previews to work with offline images, and the new DNG Validation feature checked the integrity of DNG files.
The Develop module added the Radial Filter, advanced spot removal (non-circular healing), the Visualize Spots tool to help to identify sensor dust, and automatic perspective correction (Upright).
Adobe also added support for PNG files, video files in slideshows, and some simple custom layout tools in the Book module, among other small tweaks.
Lightroom mobile for iPad was introduced on April 8, 2014, with the iPhone version following on June 18. The Android version took a little longer, with the first phone release being launched on January 15, 2015.
In the Lightroom 5 book, I added a new Quick Start section for new Lightroom users, as previous versions had assumed some previous experience with editing software. I also released a free Lightroom Quick Start eBook for email subscribers, which was downloaded tens of thousands of times in the first few weeks, and has been updated again a few times since, for changes in later Lightroom releases.
Lightroom CC / 6
On April 21, 2015, Lightroom 6 was released without a public beta, and at the same time, Adobe changed the branding, separating Lightroom CC from the perpetually licensed version 6. They're still the same program files, but the CC version has access to additional new features. For the first time, Lightroom 6 also requires online activation. We can thank the pirates for that!
The big news in this release was Face Recognition, which had been one of the most requested features for some years. Touch enabled PC's also gained a touch workspace similar to Lightroom mobile.
They also added HDR merge, which creates high dynamic range files ready for editing in the Develop module, and Panorama merge, saving a trip to an external editor.
Since 4K and 5K monitors have become much more common, work began on GPU acceleration, to help make editing on high resolution screens much smoother.
The Develop module also gained smaller features, such as the ability to brush away parts of gradients and move adjustment brush strokes, and the new Pet Eye tool.
For CC users, there have been additional new features added since the 6.0 release. They include Dehaze, local Whites/Blacks, improved panorama merge and the new Guided Upright tool, as well as all of the improvements made to Lightroom Mobile and Web.
Cameras have continued to make significant progress. Popular DSLR's now include the Canon 1DX Mk II (18.1MP), 5D Mk IV (30.1MP), 7D Mk II (20.2MP) and 80D (24.2MP), and the Nikon D5 (20.8MP), D810 (36.3MP), D750 (24.3MP) and D500 (20.9MP). In recent years, mirrorless cameras have also gained popularity, with pro-level cameras from Sony, Fuji and Olympus.
Sensor sizes have grown at a crazy rate, with the Canon 5DS (50.6MP) and the Sony A7R II (42.4MP), and even higher resolution sensors in development. With these "improvements" comes a need for greater storage and processing power in our computers too. Fortunately, 512MB of RAM and 80GB hard drives are no longer the norm!
The difference in noise handling, compared to 10 years ago, is night and day. In 2006, cameras could shoot up to around 3200 ISO, and they were almost unusably noisy. Now, many cameras offer up to 51200 ISO, and even as much as 409600 on some cameras.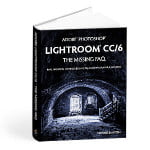 I spent the 2 years between Lightroom 5 and Lightroom 6's release completely rewriting the entire book, making it easier for new users to grasps the basics of Lightroom using the new Fast Track feature, but also ensuring that all of Lightroom's features are covered in detail, making it a complete reference book. For the first time, the book was published in color print, as well as multiple eBook formats. This blog has been busier than ever, and I also released a free Lightroom Performance eBook for email subscribers.
What's next?
Who knows what the next 10 years will hold for Adobe, Lightroom and other photography software.
Finally, I just wanted to say how much I appreciate your continued support. My life has changed completely over the last 10 years, thanks to Lightroom, and more importantly, thanks to you, my lovely readers. I look forward to continuing to support you in the years to come.