Adobe Lightroom 3 – The Missing FAQ
Real Answers to Real Questions asked by Lightroom Users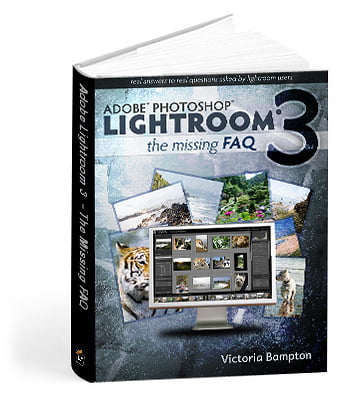 eBooks only
(includes PDF, Kindle/Mobi & ePub formats)
£ 14.95 | $ 23.87* approx.
* Currency conversion shown based on Google current value. Currency conversion from British Pound Sterling will be calculated by PayPal or your card company.
Paperback & eBooks shipped direct
(includes Paperback, PDF, Kindle/Mobi & ePub formats)
£ 25.95 | $ 41.44* approx.
Shipping free to UK & US.
Shipping to other countries £5.00 | $ 7.98* approx.
* Currency conversion shown based on Google current value. Currency conversion from British Pound Sterling will be calculated by PayPal or your card company.
Book Details
Author:
Reviews:
Pages: 500 pages
Version: 3.0 - 3.6
Format: eBooks - PDF, Kindle & ePub
ISBN: 978-0-9560030-3-4
Format: Paperback
ISBN: 978-0-9560030-4-1
When you have a Lightroom question, where do you look?
Do you trawl through thousands of web pages looking for the information you need?
Perhaps post on a forum and wait for someone to reply?
Maybe try to figure out the Help files?
From now on, you look right here!
This is the reference book that should have shipped with Lightroom.
How's the book laid out?
It's a book of questions and answers – questions asked by real Lightroom users on a variety of online forums. You can read it cover-to-cover, or you skip around and use it as a reference book. As a searchable eBook format, you can use the bookmarks or search facility to easily find the answers to your questions.
Who will want to read this book?
Whether you're a new user who likes to dive straight into new software and figure it out as you go along, a more experienced user wanting to learn how to get the best out of Lightroom, or you've just got a burning question you'd like answered, this book is for you.
There are questions ranging from simple ones like how to import photos, to much more in-depth details about how the previews are used and how to create your own camera profiles.  Check the Table of Contents to see the full list of questions covered in this release.
These are real-world answers to real questions asked by real Lightroom users. It not only covers how to do things, but also why they work the way they do.
Lightroom may have a mind of its own… but now you can learn how it thinks.
Is it worth reading?
Of course I'll say yes, but readers agree. It has mostly 5 star reviews on both Amazon.com and Amazon.co.uk – feel free to read their comments. You can also download free excerpts to help you decide whether it's the right book for you.
A choice of formats
The Adobe Lightroom – The Missing FAQ books were originally intended to be searchable PDFs, however once they were released to the public, a demand arose for a paperback version too.
While many books have a PDF supplement, this book is the other way round – the color PDF eBook is designed to be the primary book, and the black & white paperback and other digital formats are the supplement.
You can learn more about the different formats on the Book Formats page.
Reviews
The book has received numerous 5 star reviews on Amazon and other websites.  I really appreciate every single of them, but there's not enough space on this page, so here are just a few of my personal favorites:
Simply the Best
This book/ebook is simply the best resource for learning and using Lightroom 3.2 that I have seen and used to date. My library includes the Scott Kelby books and the Martin Evening books, and I find that I go again and again to the Lightroom Queen for answers rather than to either of the other standards. Not that the others don't provide good info, it's just that Victoria's book is so user-friendly and so intuitively-organized that I can find useful information faster with her book. As I said, it's simply the best!
-  T. Rhyne, 30 November 2010, Amazon.com
The Single Most Useful LR3 Book
This is the most useful Lightroom 3 book by far…it's the Lightroom book I always wanted. I don't want a step-by-step, hold-my-hand guide to someone else's workflow; I want my immediate question answered!
I don't need Mr Kelby's jokes(however well-intentioned), they just take up time. Kelby and Evening may have interesting and useful ideas about how to use Lightroom, but I just want to know how it works. Buy Kelby or Evening AND this book, OR: If you can only buy one, this is the one.
- KB, 10 May 2011, Amazon.com
Clear and Concise. A Great Resource
I have a couple of Lightroom books but this is the one I continually go back to time and again. I've yet to come across a question that wasn't answered. Real clear and concise and organized in a way that makes locating the question easy.
- Thomas Husband, 10 August 2010, Amazon.com
Amazing!
I just purchased Lightroom 3 and was about to either throw the computer out the window or have a breakdown before I came across her book. I downloaded the PDF version and had all my questions answered and computer "fixed" within minutes! Her book is both easy to read and navigate. I read somewhere that her book should come with the program when purchased…. ABSOLUTELY!!!!!
- DTD, 21 March 2011, Amazon.com
Only five stars because they don't do six
This is the book I was looking for – for far too long. All the others are too linear in their approach, if you know what I mean – do this then this and then something else. This on the other hand is the informational equivalent of an all you can eat buffet simply dip in dip out as you want, take as much or as litle away each time but inevitably coming away wiser.I got this book Friday and read it end to end over the weekend. I could not and did not want to put it down – unlike some of the other LR3 books I have tried to read lately. This is not a book for my bookshelf – this now lives in between my monitors in pride of place. Oh and the downloadable accompanying PDF – that lives on the desktop of my laptop for use anywhere. Thanks Victoria your not the LR Queen your the LR Guardian Angel.
- J. Hoskison, 31 October 2010, Amazon.co.uk
Answers questions I didn't know I had
I have a shelf full of guides for Adobe products including Lightroom. This is the first one that has truly shed some light into areas I didn't fully understand or appreciate about Lightroom. Don't get me wrong, I do like the Kelby materials and online info too, but Lightroom 3 – The Missing FAQ is an entirely different and informative approach.
I thought I would only be using it as an occasional reference but have found I've been reading it cover to cover becuase there are simply so many things I wouldn't have thought to ask, that once you know the answer, help you to have a much deeper understanding of Lightroom and how to use all of it's features to the fullest.
The author is very responsive to emails and sent the PDF copy of the book within hours of the request. The PDF with it's search features makes it an awesome reference to have running in the background when you need it.
- M. Sanderson, 20 October 2010, Amazon.com